Remembering 9/11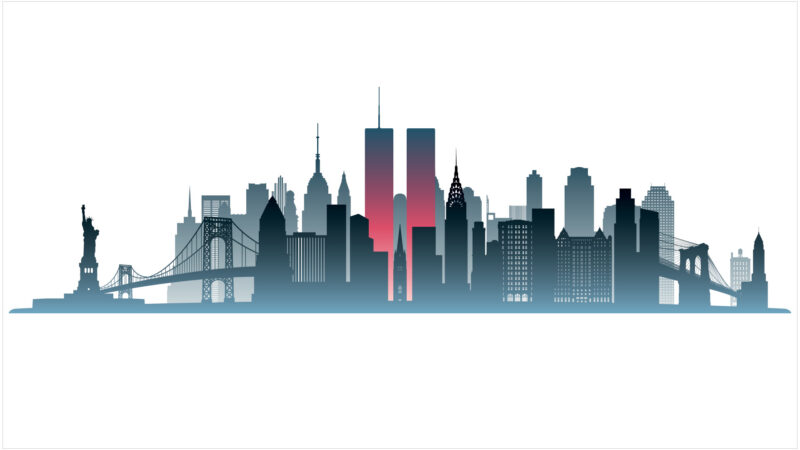 It's one of those moments in history where everyone remembers where they were and what they were doing. I'm speaking, of course, about September 11th.
I was attending a workshop in Baltimore ahead of the Public Radio Program Director's Conference. Long before everyone owned a smartphone, a colleague entered our workshop and said, "You need to call your stations. There's been a terrorist attack." The South Tower had already fallen. Harrowing.
This week, you'll hear extensive coverage from NPR on the 20th anniversary of the 9/11 attacks. There will be stories about how air travel has changed, the legacy of health effects of first responders at Ground Zero, teaching 9/11 as history, and undocumented immigrants who worked at the World Trade Center on Sept. 11 and who are still considered missing two decades later.
You'll also want to listen to Sacred Ground: A September 11th Special from NPR today from 2 to 3 p.m. The program will also be rebroadcast at 7 p.m.
Sacred Ground is the story of Tim Lambert who was a young journalist at NPR station WITF in Harrisburg Pennsylvania on September 11, 2001. The day was a blur of news: the crash of hijacked airliners in New York City, Arlington, VA, and near Shanksville, PA. It turned out that the fourth plane crashed on land passed down to Tim from his grandfather. Thus began a 20-year journey. Now, two decades after that horrific day, WITF's Tim Lambert and NPR's Scott Detrow bring us this special report on the crash of United Flight 93 from the earliest days until now.
On this coming Saturday, September 11, 2021 NPR's Scott Simon will host an extended version of Weekend Edition Saturday on WBHM from 7 to noon preempting Wait Wait Don't Tell Me and The TED Radio Hour. The broadcast will include remembrances as well as insightful looks at the past two decades and where we are today. Ceremonies are planned at the sites of the attacks in the morning to remember and honor those who died.
Stories will include:
Conversations with survivors of the attack on the World Trade Center.
A report on St. Paul's Chapel in lower Manhattan, which miraculously remained standing after the attacks and collapse of the World Trade Center. It was dubbed the "little chapel that could" and became the site of memorials.
How 9/11 changed – or didn't – what it means to be Muslim in America.
New York Fire Department Engine 54 lost every firefighter they sent to battle the fires. We'll hear from family of those who died as well as current firefights about the legacy of the day.
A remembrance of the events at the Pentagon.
Join us and the nation as we remember and honor those who were lost and examine the legacy of this day.
(Through "Programming Notes," we hope to keep you connected to what is happening at WBHM both internally and on-air. Have feedback you'd like to share? Or a programming question? Let me know!)