Legislative Wrap-Up: Bills on Habitual Offenders, Trans Athletes, Public Records Advance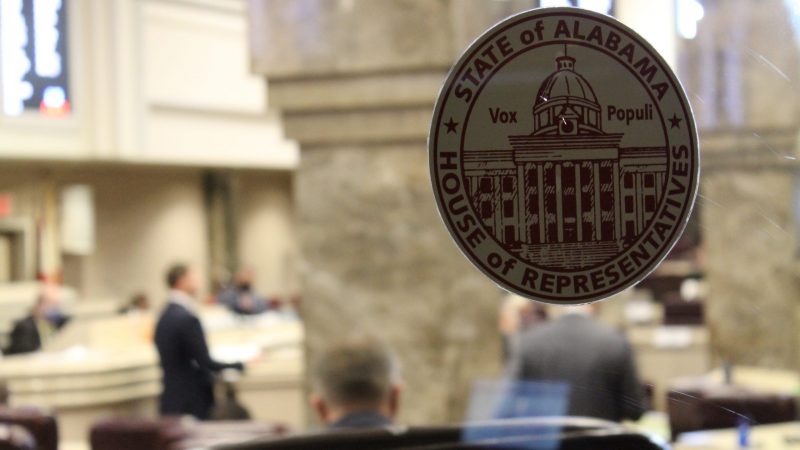 Alabama lawmakers returned from spring break this week and tackled legislation on a range of issues. Here are the highlights with Don Dailey, host of Alabama Public Television's Capitol Journal.
A House committee approved a bill to repeal Alabama's Habitual Offender law, a measure that mandates longer sentences for repeat offenders. The move to repeal this bill was sponsored by Democratic Representative Chris England. What would change?
This bill is also being called the three strikes sentencing law reference, of course, to the baseball term, three strikes and you're out and it provides for harsher sentences for repeat offenders. Representative Englands philosophy here is this law is having a lot of unintended consequences. He has cited some examples. He's heard of where people were sentenced to life for nonviolent offenses because they were repeat offenders. Representative England has also contended that he's spoken with some judges who agree with him that maybe the time has come to repeal this act, especially in this age of prison reform. And so he has aggressively pushed this bill, but it has its detractors as well.
During the committee hearing this week, there was a lot of talk about judges needing the authority that they currently have under the habitual offenders law to impose more stringent sentences on repeat offenders. So this is the first hurdle getting out of the House committee, and it promises to be a contentious issue on the House floor as well.
The state's prisons are severely overcrowded. How much did that weigh in on the debate?
It weighed in very heavily. That is one of Rep. England's main points in this debate. He's sponsoring a number of bills along these lines. As you know, Rep. England is an ardent supporter of prison reform. And given our being under the close, real close, watchful eye of the federal government where our prison conditions are concerned, he thinks that legislation like this particular bill are important to get out this year.
There was some action on a bill that would require public school students to participate in sports according to the gender assigned at birth, not the gender they identify with. Alabama is one of a number of states where bills affecting trans youth are being considered. What happened this week?
Alabama is among about 30 states that are considering bills like this this year. This transgender athletes bill made it out of a Senate committee this week and now heads to the Senate floor. It's already passed the House. And again, it says that you cannot compete in Alabama public school sports unless you do so based on the gender on your birth certificate. Now, this has been a controversial bill and has received a lot of pushback from transgender advocates. The House sponsor of this bill is Rep. Scott Stadthagen of Hartsell, and he has said from the get go that to him it's more about competitive fairness where girls sports are concerned. He says that allowing transgender athletes to compete and girls sports would be an unfair advantage. But trans advocates, on the other hand, just see it as another spoke in the wheel, so to speak, of discrimination against the transgender community.
A Senate committee approved a bill that would strengthen Alabama's public records law, which is considered one of the weakest in the nation. What would this measure do?
It is a controversial issue again and this is something that lawmakers have tried to address for several years, never with much success. Sen. Cam Ward, who's now the director of the Bureau of Pardons and Paroles, had brought this bill several times in previous years. It's now being sponsored by Sen. Arthur or Decatur and he agrees that it's just too hard for citizens to get access to public records and that it shouldn't be that hard. He wants to streamline the process. It has its detractors. There are those who say that especially local governments in small rural parts of the state a lot of times don't have the resources to respond to records requests, which can sometimes be lengthy and very time consuming. But on the other hand, you have journalists, media outlets and many members of the general public who say that we just need to make it easier to get access to public records, that it shouldn't be as hard as it is in Alabama right now.
This interview has been edited for length and clarity.