JeffCo Commissioners Look Forward To Dropping Social Distance At Meetings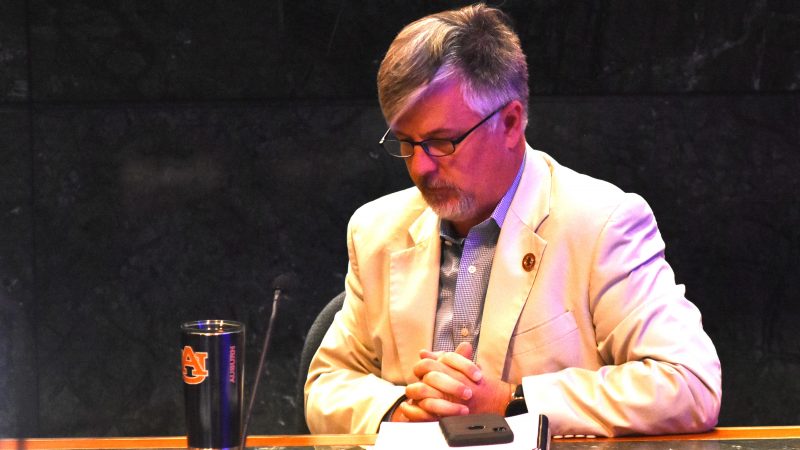 As Thursday's Jefferson County Commission meeting reached its end, Joe Knight rose from his seat in front of the dais and put his name plate in front of the one for Lashunda Scales.
"When we return, I reclaim my seat," Knight declared.
Steve Ammons, who like Knight has been seated at a table below their fellow commissioners, chimed in. "I'm tired of being a second-hand commissioner," he joked.
The lighthearted banter came as commissioners announced that today's meeting will be the last one held during the state of emergency Gov. Kay Ivey declared last year to help slow the spread of the novel coronavirus. Social distancing requirements or recommendations have been part of public safety orders the governor has issued during the state of emergency.
So, all five commissioners will be at the dais when they return for their meeting June 10. Restrictions that make some seats in the commission chamber off limits also will be removed.
"Everything should be back to normal operation," Commission President Jimmie Stephens said. "If someone feels uncomfortable and they want to wear a mask, we encourage that."
Stephens said commissioners want everyone to feel comfortable doing business in and with Jefferson County.
"That's the sole purpose of this," he said. "(I said) from the dais to remain safe. As we begin to do this, safety is our first concern and to be comfortable in your personal space. If we can do that, I think that we can return to a more normal state of operation."
County employees currently are required to wear face masks when they are working in county facilities. County Manager Tony Petelos said he expects that will become a matter of choice going forward, depending on what the City of Birmingham does with its mask ordinance that's set to expire on Monday. Mayor Randall Woodfin has indicated he will not ask for the ordinance to be renewed.
UAB Genomics Building
Commissioners held a public hearing and then adopted and approved a funding agreement to assist UAB in the expansion and construction of a new Genomics Sciences Research Building.
Commissioner Lashunda Scales, who was absent from Tuesday's committee meeting, when the project was discussed, echoed the support of her fellow commissioners.
"The new genomics project at UAB is going to be transformative and create innovative ways that we can use our research locally to propel us nationally and even on some cases internationally," Scales said. "I believe that UAB has been a standout for research as one of the top institutions in the nation. This is going to add to that list of accomplishments that we have been able to make successful strides in research and utilizing technology at the same time."
The county pledged $1 million a year for five years to help UAB with the expansion and construction of a new genomics sciences and research building.
UAB President Ray Watts said during a commission meeting Tuesday that the building will span 540,000 square feet.
He said the project will require a more than $100 million investment and produce more than $100 million in annual impact for Birmingham and Jefferson County.
"It is perfectly situated to take genomic information and data science and predict what kinds of treatments might be effective for cancers," Watts said. "You can also predict what diseases we might be at risk for so we can control those risk factors and avoid ever having that disease.
Commissioners also agreed to apply for a grant of more than $4 million from the state of Alabama for the Lakeshore extension and the widening of Morgan Road down to Hopewell Road.
"It's about a 2-mile area that they're working on," Stephens said. "It will be a five-lane access road that will help the overwhelming truck traffic ingress and egress that area in the city of Bessemer."
The commission president said the impact of the extension is significant.
"The impact is already beginning to come to fruition," he said. "There are 1,160 well-paying jobs there. That is in an area of Jefferson County that has had an unusually high level of unemployment. To create these opportunities for the citizens of that area is tremendous.
"You have a FedEx facility there, you've got the Dollar General warehouse, you have a 1.2 million-square-foot Lowe's distribution center," Stephens continued. "And then you have the Carvana rehab factory – that's what I would call it – and distribution center. There is a high concentration of jobs out there and it creates a great opportunity."