JeffCo commissioners begin redrawing district lines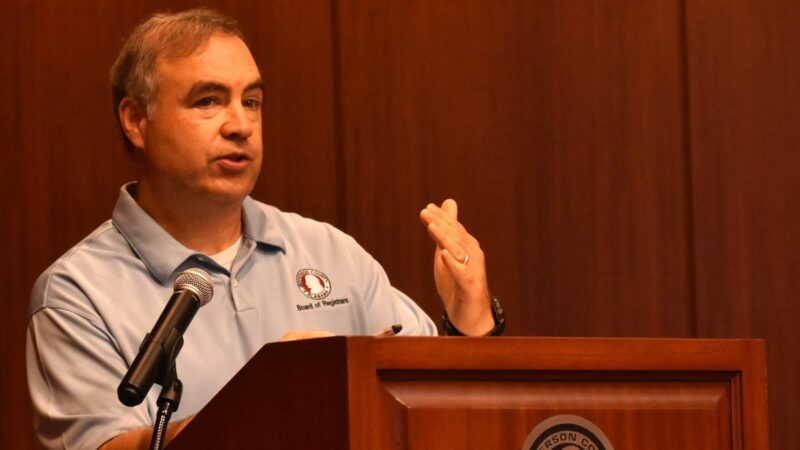 The give-and-take of county government will be apparent in the coming weeks as Jefferson County commissioners consider how lines separating the five districts will be redrawn.
Board of Registrars Chairman Barry Stephenson made a presentation during the commission's committee meeting Tuesday, showing commissioners maps for three options for evenly distributing the county population using 2020 U.S. Census numbers.
Commissioners, following the advice of Stephenson, will advance all three maps for public review. A hearing on the plans will be conducted during the Nov. 4 commission meeting.
The county's population increased by 2.2%, from 658,466 in 2010 to 674,721 in 2020. Dividing that total by five yields a target of 134,944 residents per commission district.
The census shows the current districts with the following population distribution:
District 1: 122,689, underpopulated by 9.1% and needs to add 12,255.
District 2: 121,372, underpopulated by 10.1% and needs to add 13,572.
District 3: 142,776, overpopulated by 5.8% and must lose 7,832.
District 4: 142,111, overpopulated by 5.3% and must lose 7,167.
District 5: 145,773, overpopulated by 8.0% and must lose 10,829.
Stephenson said commissioners individually have viewed the three maps, considering what parts of their districts will be added or subtracted.
"I'm just a numbers guy," he said. "[Commissioners are] the ones that will either know or, possibly, they may want particular or they may not want a particular area. That's not really my concern. I'm looking trying to get that equal population between plus or minus 1%."
Commission President Jimmie Stephens said he and other commissioners inherited districts in 2010 that included "many fingers that stretched out in the different districts." Back then, it was harder for constituents to know in which district they lived.
Since then, districts have been defined by census tracks and have discernable landmarks, such as creeks, streams and thoroughfares, to divide one from another.
"We have completely cleaned that up where all the district lines are smooth and follow clearly distinguishable boundaries," Stephens said.
Residents can view the three maps in the Jefferson County Board of Registrars office in Room 410 of the Jefferson County Courthouse Annex at 716 Richard Arrington Jr. Boulevard.
Mental Health Diversion Center
Stephens told commissioners Gov. Kay Ivey had decided to locate a mental health diversion center in Jefferson County, which was chosen over Tuscaloosa County.
"They're in the process now of determining the location that would best suit the needs of those that would utilize that facility," he said. "It's a great asset and tool moving forward because many of the people that are placed in jail [are there] because they have no other place to go. This will offer an alternative for those that are mentally ill to receive the medication and the care and the treatment, and to keep them out of jail."
McCalla Development Coming
Commissioner Steve Ammons mentioned a recent rezoning that he said will soon yield an announcement of a significant development project. A nondisclosure agreement forbade him from giving details.
The Jefferson County Industrial Development Agency is working on the project with Jefferson County.
"It will be a great announcement to make with a good number of jobs out in the McCalla area," Ammons said. "We're looking very much forward to making the announcement but we're under an NDA. We're trying to keep everything close to the vest until we can actually make the announcement."