I'm no Mama Stamberg, but…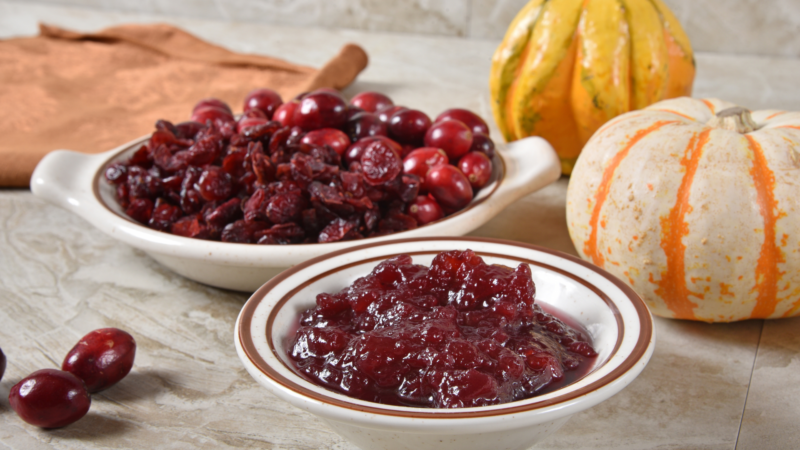 Even if you haven't tried it, you've most likely heard about it. I'm speaking, of course, about that pink Thanksgiving concoction from NPR's Susan Stamberg – her mama's cranberry relish.
This recipe has become such a tradition at NPR they've dedicated an entire online series to it.
Over the years, Mama Stamberg's holiday concoction has become quite a controversial dish, and one of the stories in this series sums it up almost too well: Cranberry Relish: The NPR Recipe That Divides Thanksgiving Tables. I'll let you explore the details and only add if you like cranberry sauce on the sweet side, you probably won't relish this relish.
If you like your cranberries prepared in more traditional way, here's a recipe for spiced cranberries my stepmother makes every year. Think of this as upping the game beyond the can and its glorious gelatinous ridges. There's a lot going on with the flavor and you want to eat this slow to taste every bit, but also out of practicality – more on that in just a moment.
Linda Krall's Spiced Cranberries
1 pound fresh cranberries washed (4 cups) (2 packages)
2 cups sugar (I usually use less, around 1.5 cups)
5-10 whole cloves
5-10 whole allspice
2-4 (3 inch) cinnamon sticks
Wash cranberries, removing any stems.
In large saucepan combine sugar, one cup water (add a little more as needed), cloves, allspice and cinnamon. Bring to boiling over medium heat, stirring until sugar is dissolved. Reduce heat and simmer for five minutes.
Add cranberries. Cook, stirring once or twice until cranberries pop, about two minutes. Remove from heat and let cool.
Refrigerate in Mason jar at least several days before using.
Now you could remove the clove, allspice, and cinnamon before serving, but it's a pretty meticulous job.
And, yeah, it's a bit more work to eat as you must be aware you don't chew the cloves and allspice, but the idea here is you leave them in until you eat it for maximum flavor. And, believe me, the flavor is worth it!
(Through "Programming Notes," we hope to keep you connected to what is happening at WBHM both internally and on-air. Have feedback you'd like to share? Or a programming question? Let me know!)