How a Birmingham shop owner brings memories to life through books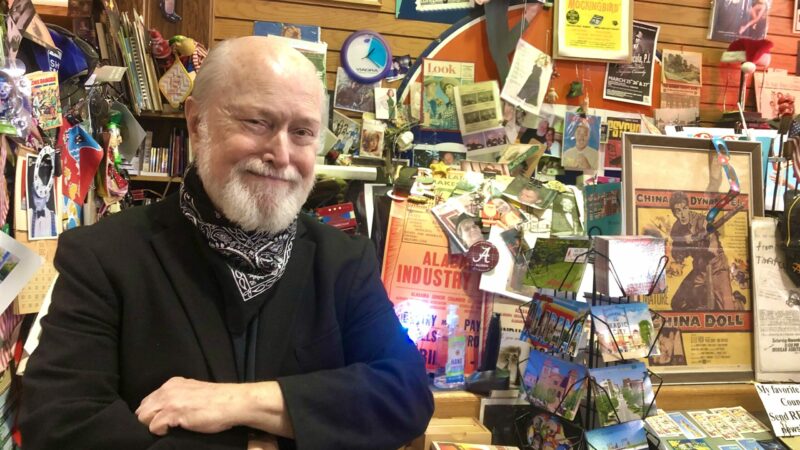 This story is part of a new occasional series called Extra Credit sharing the stories of non-traditional educators in Birmingham.
History and nostalgia dwell inside Reed Books, also known as The Museum of Fond Memories, in downtown Birmingham. There are floor-to-ceiling memorabilia with packed shelves of books, writings, boxes of photographs and records. Even an antique post office box filled with old letters. Jim Reed opened this shop 41 years ago, to become his own boss. But he chose to sell books because they are what he loved most growing up.
"I teach the love of books, the care of books, and the importance of books as memory triggers," he said.
Some items in his shop are over 500 years old. But if asked which one is his favorite, Reed will balk.
"That's like asking what the favorite part of the orphanage is," he said. "They're all my children."
The white-bearded 80-year-old said he hosts a quarter of a million objects in his downtown store, and he takes in new shipments of stuff every week.
"I look upon it as an ark," Reed said. "It's like Noah's Ark because [there are] samples of everything from 500 years back to now."
But Reed is not only a jolly shop owner. He is an author and podcaster. He considers himself a curator, archivist and a teacher.
"I teach the love of books."
Part of Reed's mission is to show people that reading is fun. He said he often has customers who say they do not like to read and takes it as a challenge to prove them wrong.
"I just can't help wanting to let people know about the beauty of books," he said. "And how they are different from the internet. That's fine. I use it. Everybody uses it. The books? They have 'the real.'"
By "the real," he means that books are more than just words on a page. He sees them as time travel devices.
"When you throw a book away, you're throwing people away."
Reed said he never throws a book away because he believes when you touch a book, you are touching the essence of all the people who read and loved it before you.
"These are people's dreams. We respect them and we keep them," he said. "When you throw a book away, you're throwing people away. Sounds like a stretch, but it's the way people like me feel, so I can't throw a book away. It represents so many people. The older the book, the more people it represents."
Reed said the age of many books and items in his store can be intimidating to some because of the history they represent, but he considers it exciting.
"You can take things home with you."
In a museum, history can seem off-limits. Often, visitors are expected to be quiet, you can't get too close to exhibits and if you did want to buy something, you'd probably have to be very well-off.
"When you go to a museum, you can't touch anything. You can't take anything home that you like. Here you can. This is the Museum of Fond Memories. You can take things home with you."
You can buy a 120-year-old pocketbook for about $15. In his store, Reed tries to make history accessible, especially for young people.
"I've noticed that a number of people younger than me, which is most people in the world, they're afraid to touch an old book. And I said, 'No, this is made to be touched.'"
Evelyn Crowe, 17, recently stopped by and bought a newspaper clipping that's five times older than she is, from 1930. It was her first time visiting Reed Books.
"Something that you pick up and you just flip through like a book, or you go through these records someone could have really, really loved," Crowe said. "I really, really like the idea that I get to keep it and I get to find it and cherish it."
"It tells you, be free."
Reed wants all visitors to his store to leave with a respect for books and an excitement for the journeys they can take you on.
"As a kid or an adult, when you read it, as you turn the pages, you begin to identify with each page. That turns on your imagination, gets it going. It tells you, be free," he said.
Kyra Miles is a Report for America Corps Member reporting on education for WBHM.
Know a non-traditional educator in your community worth featuring as part of the series Extra Credit? Email [email protected].