Here Comes the Sun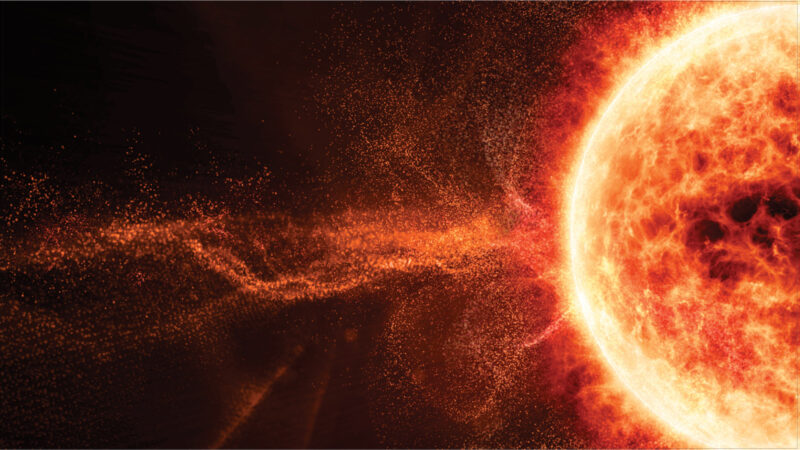 Starting in late October until just recently, we heard from a number of listeners who were having trouble picking up WBHM on their radio. They reported ongoing static where previously the signal was uninterrupted.
As best, they found this anomaly annoying. After all, WBHM sounded fine yesterday, so there must be a problem with our signal. Right?
If only it were that simple.
Darrell McCalla is our chief engineer, and he's responsible for making all the equipment work to get the FM signal from our studio to your radio – a formidable task. As program director, I don't need to know how everything works, but if our signal isn't optimal, I need to know if and how it impacts you.
So why all the static?
Here's the long answer from an article that Darrell shared with me (as an engineer, he understands what all this means):
GEOMAGNETIC STORM WATCH: A strong G3-class geomagnetic storm is possible on Oct. 30th when the CME from yesterday's X1-flare is expected to hit Earth's magnetic field. Such storms can spark naked-eye auroras as far south as Illinois and Oregon (typically 50° geomagnetic latitude) and photographic auroras at even lower latitudes. Lesser G1 and G2-class storms could persist through Halloween as Earth passes through the CME's wake.
Huh? Let's try a medium answer.
The earth is subject to interference from solar flares – a sudden flash of increased brightness on the sun, usually observed near its surface. These flares produce geomagnetic storms which don't always play nice with earth's atmosphere. They do cause the northern lights, or the aurora borealis, which aren't visible in the South, but you've probably heard of them or seen pictures. These magnetic storms affect satellites in space, and, you guessed it, radio communications.
And here's the short answer: It was solar interference.
It just so happens, that these outages are more prone to happen every 11 years at the end of one sun cycle and the beginning of another, which is where we are now.
But solar flares can really happen at any time within these cycles, especially this time of the year. If you live outside the Birmingham metro area, you may have noticed it more – or not at all!
What do solar flares not affect? Streaming at wbhm.org, our app, and your smart speaker. So if your terrestrial radio isn't getting a clear signal, you have options.
All this is to say, whether or not we 100% understand the science behind the situation, Darrell understands it and keeps WBHM up and running. And while every so often we have a local issue impacting our signal – sometimes equipment just breaks or a squirrel runs through the transformer – he and I and the rest of the WBHM team usually manage to handle it without you ever knowing.
But sometimes the sun just has other plans.
(Through "Programming Notes," we hope to keep you connected to what is happening at WBHM both internally and on-air. Have feedback you'd like to share? Or a programming question? Let me know!)