Field trips look a lot different for students this year. But that's not entirely bad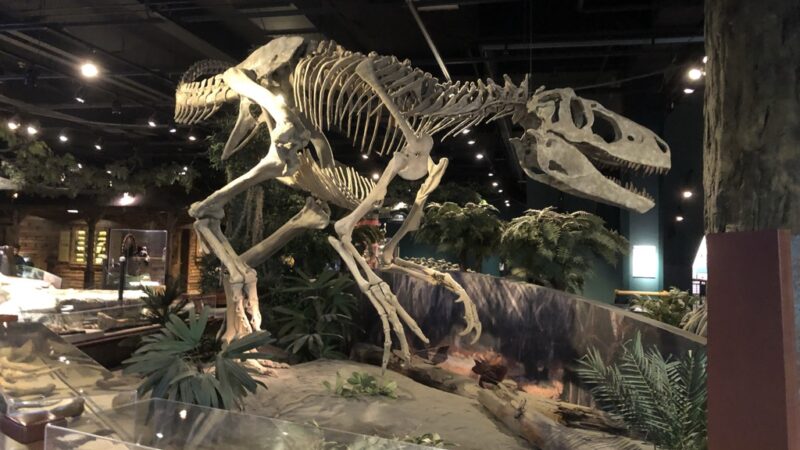 For Birmingham K-12 students, the McWane Science Center has been a key field trip destination where students climb on interactive exhibits, touch stingrays and learn about fossils. It's a place students look forward to going to every year.
It's especially exciting for 8-year-old Olivia Ragland and her friends.
"I mean this is my second field trip this year, and it's already been fun," she said. "So, I'm just happy."
It is a complete 180 from last year when Olivia said she felt sad that school was boring.
Many students in Birmingham spent the 2020-2021 school year online because of the pandemic. Many field trip destinations were closed as well. But with schools adapting to the pandemic, in-person field trips are back too.
Now at the McWane Science Center, the students can learn hands-on again.
"Last year in the pandemic we were so isolated," said Olivia's third-grade teacher Jenny Phillips.
When Phillips received the "OK" from Shades Cahaba Elementary School in Homewood to go on field trips, she immediately signed up her class.
"In my class, some of my values are that it's important to bring the world into the classroom as much as possible and to teach them to have curiosity about the world. And I think field trips help do that," Phillips said.
A research survey by museum professionals from Curator: The Museum Journal, found that 96% of the elementary school students, middle school students and adults they surveyed remember a school field trip. A six-year study from New York University followed students' exposure to field trips and found that they had improved test scores. More research from Education Next, a journal about education policy, found field trips also improve students' social-emotional learning.
Angela Williams is an instructor and internship coordinator at Miles College. She understands the importance of field trips and partners with educators at different museums to connect students.
"There is experience and learning that can transcend the classroom," Williams said. "And when you come into a museum, you're getting history, you're getting art, you're getting all these different dynamics. And even on a collegiate level, it opens the world to you."
School districts like Homewood, Birmingham and Mountain Brook have started the process of opening the world to students again. But the field trips students look forward to every year are not completely back to normal. They are happening in a different way.
Forced to revamp, educators looked to virtual field trips.
"The pandemic and the innovation that came from it allows for the museum again to reach students in ways that they could not before," Williams said.
At the McWane Science Center, Miranda Springer oversees development and marketing. She said their virtual programming expanded access to both teachers and kids who might have never visited before.
"Having those virtual opportunities has enabled many families who maybe couldn't make the trek up to Birmingham from more rural communities to get a feel of what hands-on interactive science experiences can be like, even if they can't get here," Springer said.
Virtual programming has given many museum educators the opportunity to reevaluate how they interact with visitors.
"Digital education has really opened up doors in terms of access," said Angie May, the associate director of learning and engagement at the Birmingham Museum of Art.
The museum usually sees about 4,000 students a year, but when it launched virtual programs there were more than 26,000 different website visits. Each click could mean one person or an entire classroom.
"It made the transition, I think, easier in that aspect because of the empowerment that comes with clicking a button and watching a video and then having the tools to retain and rewatch," May said. "You can't rewatch a tour, but you can a video and then that's going to propel you like 'I've got to get to the museum'."
With these virtual programs, students can travel across borders and oceans to experience different cultures.
"It's beyond a museum and gallery experience, so I like to think of virtual engagement and digital education as a brand new space that exists," May said.
This hybrid of in-person and virtual field trips could become the new norm for educators and students.
"They [field trips] can be life-changing for kids. It's one of the reasons that school is fun. And it is, I think, to an extent, an equalizer by giving kids no matter where they come from, the opportunity to get a broad experience to establish a base of knowledge that they can then draw on to interpret the world," said Meg Davis, founder of Explorable Places, a national organization that advocates for field trips in any form.
Both the Birmingham Museum of Art and the McWane Science Center indicated their virtual programs are here to stay even after they fully open their doors again.
Kyra Miles is a Report for America Corps Member reporting on education for WBHM.