Environmental Groups Appeal Judge's Cahaba River Ruling To The Supreme Court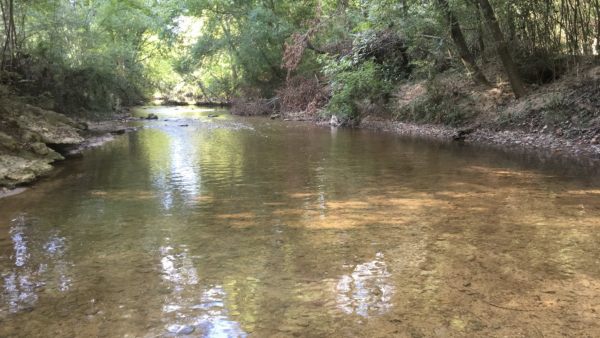 A lawsuit seeking to compel the Birmingham Water Works Board to permanently protect Cahaba River watershed lands is advancing to the Alabama Supreme Court.
The Cahaba River Society and Cahaba Riverkeeper are appealing a Jefferson County Circuit Court's recent decision to throw out the lawsuit against the BWWB they filed in March. In it, they allege the board has failed to comply with a 2001 consent decree ordering it to protect undeveloped land around the Cahaba watershed.
The two groups, represented by the Southern Environmental Law Center, say the BWWB has long ignored a 2001 order by the Alabama attorney general to place permanent conservation easements on the approximately 6,000 acres of watershed property the board owns. These easements would prevent future development on a watershed that is a significant contributor to the city's drinking water.
Though the BWWB publicly vowed compliance to that order for years, it didn't instate any official protections until 2017. Plaintiffs have argued that those protections aren't legally valid because they're held by the BWWB and not a third-party trustee.
State law dictates that property owners — except for charitable and governmental entities — can't hold their own easements because their rights of ownership extinguish all other obligations. Under its current protections, the BWWB can change the terms at any time for any reason, as long as the state attorney general signs off on it. The protections also will elapse in 2051.
"The board decided they did not need oversight and could supervise themselves," Myra Crawford of the Cahaba Riverkeeper said in a press release. "They have not agreed to permanent protection of our primary source of drinking water, as they are allowing any purported protection to sunset in 30 years."
The BWWB has argued that it is legally a governmental entity, which would give it the right to hold easements over properties it owns.
The lawsuit cites several examples of the BWWB's ownership rights extinguishing its protections over watershed properties, including the 2016 sale of one supposedly protected parcel of land to gas station developers, as well as its clearing of another parcel in 2020 to make way for roads and fencing. Plaintiffs say the development of these properties, which serve as a buffer for potentially toxic stormwater runoff, could affect drinking water quality for thousands of Birmingham ratepayers.
Jefferson County Circuit Court Judge Javan J. Patton dismissed the lawsuit with prejudice on June 2, saying the plaintiffs had "[failed] to state a claim upon which relief can be granted." The Cahaba Riverkeeper and Cahaba River Society filed their appeal Monday.
Editor's Note: The Southern Environmental Law Center is a sponsor of WBHM, but our news and business departments operate independently.