Clocks, Clocks Everywhere…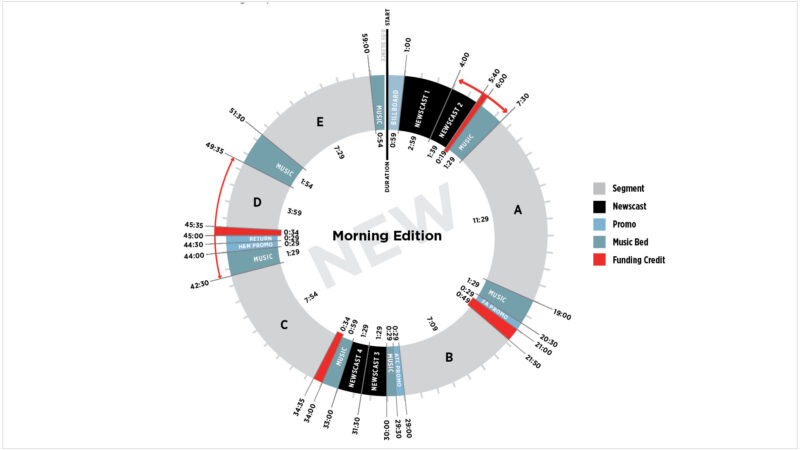 Last month, I wrote about technology and time, and I specifically mentioned clocks that sync every mission critical system at the station. Today, I'm writing about a different kind of clock – a programming clock.
"Clocks" are the specific templates used at NPR, WBHM and other stations to tell us the precise timing of all the elements in the program. From how long the newscast will be to when the funding credits are aired to how much of a window we will have to read the weather or air a story from WBHM's news team, everything runs according to the clock down to the second.
If you've ever wondered how Andrew Yeager or Janae Pierre know exactly how long to speak, this is how.
Put another way, as a listener you know what Morning Edition and All Things Considered sound like, but it's just as important for us to know what these programs look like. NOTE: Every program has its own clock, but I'm just focusing on Morning Edition and All Things Considered, which you can see pictured here.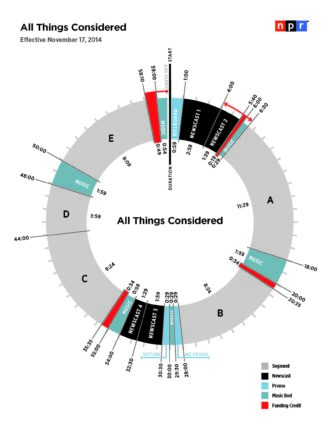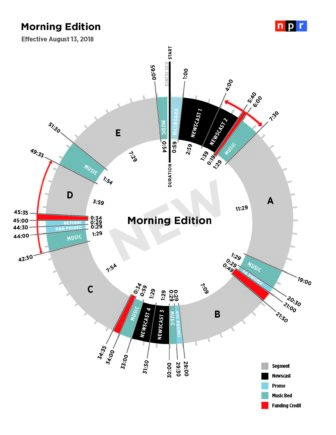 Program clocks literally keep everyone on the same page. While every NPR member station uses the same "clock" for these specific programs, each station adapts the template to best serve their local audience. That's why, when traveling, a program such as Morning Edition will sound mostly the same everywhere but with slight variations such as a local/regional newscasts, promotion, or news stories inserted into the program at different times.
As you can imagine, the clocks don't change very often. And when they do it's a big undertaking with lots of moving parts across the industry. Member stations like WBHM, need the flexibility in the news magazines, but also understand the need for NPR to bring you in-depth stories and interviews. These conversations are collaborative, and it can take years before agreeing on a workable format for everyone.
(Through "Programming Notes," we hope to keep you connected to what is happening at WBHM both internally and on-air. Have feedback you'd like to share? Or a programming question? Let me know!)