'Can-Do Cal' Takes A Customer-Focused Approach To New Job As JeffCo County Manager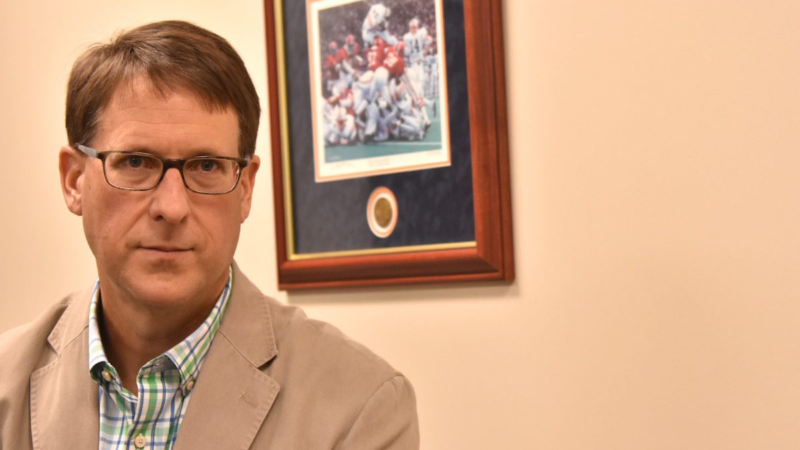 Cal Markert chuckled a little when he said his first name was Cal.
That's not quite accurate, as he was born Ralph Calloway Markert.
"My mother's dad was Ralph," he explained. "But I go by Cal."
Already, some have begun calling him by his new title — county manager. The Jefferson County Commission recently selected the deputy county manager to succeed retiring Tony Petelos in that role.
Markert, 49, officially becomes the county's second manager on Oct. 1. His tenure with the county goes back to his 2005 hiring to lead the county's Roads and Transportation Department.
County Commission President Jimmie Stephens often referred to Markert as "Can-Do Cal" because he tended to accomplish the missions assigned to him.
"He was very, very receptive to what the needs of the people were. That's unusual in today's environment. The world is filled with bureaucracy right now and people that work through the system and with the system," Stephens said. "Cal has been unique in that he has worked around the system to make sure that our infrastructure and our citizens are well-served. That didn't go unnoticed, nor unappreciated."
Markert earned a civil engineering degree from Auburn University in 1995 and a professional engineering designation in 2000. He also has a 2002 certificate in county engineering administration from the Association of County Engineers of Alabama.
Petelos said Markert arrived in Jefferson County with a strong reputation from having worked for the Alabama Department of Transportation after college and from having been roads director in Baldwin County.
"He knew all those people," Petelos said. "He knew what had to be done. Baldwin County is growing rapidly and then he had to deal with disasters, with the hurricanes. He was in charge of the roads department and he was the chief engineer."
Markert was hired after a nationwide search and ultimately went through the Assessment Center of the Jefferson County Personnel Board. He would go through the same process in 2017 when he applied to be deputy county manager as Dan Biles was leaving to become a county manager in Florida.
The county manager was selected by the commission, which OK'd hiring a firm to assess the candidates, who were narrowed to three for interviews. Markert said they asked him tough questions, hoping to get his vision for the county.
'Keeping on Keeping on'
"We made it over some big hurdles — the consent decree, Cooper Green and on and on," Markert said. "Now I think it's really time for our departments … to become customer-focused. [We need to] look at our processes, remove waste and really work on knowing who our customers are and adding value to our customers, slowly and methodically and making sure we're aligned and we're performing the mission the commission wants us to perform.
"Kind of keeping on keeping on," he continued. "I really believe in making sure we know who the customer is, and are we adding value? And we're not just creating a bureaucracy over here for bureaucracy's sake. Is this adding value to our customers in the most efficient way we can?"
Stephens said Petelos was "a godsend" with his ability to deal with the different political aspects of a very troubled county and help bring people together. He worked with the commission to make sure things were done in a very quick manner.
"Cal trained under Tony, so he's been able to pick up some of the better aspects of his traits and of Tony's traits," the commission president said. "I wouldn't say that there will be a transition. It will be a continuation of what we've begun with Tony. It's just turned into an evolution and a continuation with Cal Markert."
The rising county manager has been with the county through some difficult times, including bankruptcy. While those obstacles are behind him, he knows there are challenges ahead.
"I have a lot of respect for Tony and what he did," Markert said of his former boss. "He made excellent decisions. That's going to be a challenge and hopefully, I've got a good team I can lean on. We definitely have some great employees, so I just hope to be able to serve them and help them be successful in meeting our customers' needs."
Markert has been married to his wife, Dona for 26 years. The couple have two daughters, one a graduate of Auburn and the other a student at Hoover High School.