Black Residents Call For More COVID Vaccine Outreach And Access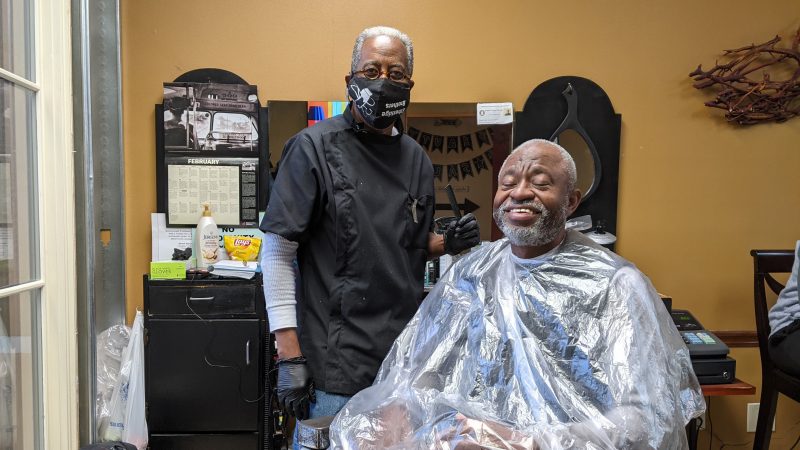 The Etheridge Brothers Barbershop in downtown Birmingham bustles with activity as men in face masks get fresh trims to their beards and hair. They chat with others who wait for their turn.
The shop owner Willie Etheridge Jr. has run the family business for decades. He said barbershops are a cornerstone of the Black community, a place where people come to talk and listen.
"Well you know it's a hot button for information and stuff like that, you know current events, and just things going on in the city," Etheridge said.
Recently, Etheridge said many of his clients have been talking about the coronavirus vaccine and whether or not they want to get it.
"You have some people that have got the shot who you'll talk to, and they're ready for the other one," he said. "You have some people that say that they're not gonna take the shot."
Throughout Jefferson County, there is growing concern about equal access to the COVID-19 vaccine and hesitancy among Black residents, who make up 42% of the county's population.
Community leaders and advocates are calling on health officials and health care providers to do more to reach Black neighborhoods.
Etheridge, who has already had his first dose of the vaccine, said there is a lot of mistrust. After centuries of mistreatment, he said many Black people don't trust the health care system or the government as a whole. And some people simply don't know enough about the vaccine, or how to get it. 
Reaching The Community
Statewide data are incomplete but the numbers show a disproportionately small percentage of Black residents are getting vaccinated compared to whites.
"I'm very concerned about disparities based on race, based on income, based on geography," said Jefferson County Health Officer Dr. Mark Wilson.
According to the most recently available report from the Alabama Department of Public Health, about 12% of vaccine recipients identify as Black and 55% identify as white. For roughly 32% of recipients, there is no racial information.
UAB Hospital, which has administered approximately 10% of vaccines statewide, released data Wednesday showing that almost 21% of their vaccine recipients identify as Black.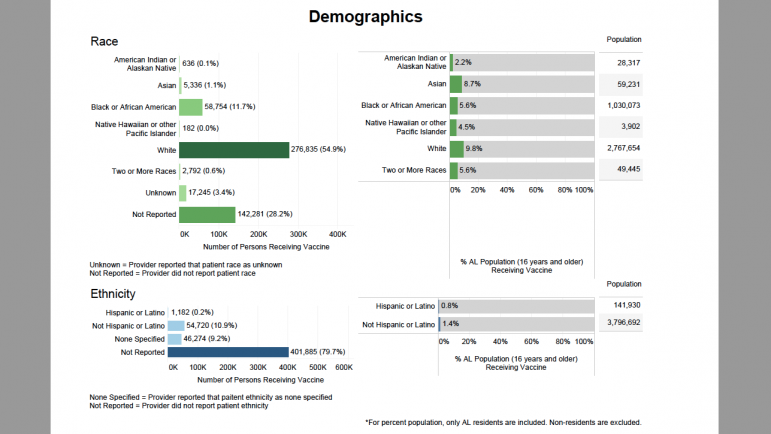 In Jefferson County, Wilson said many advocacy groups and health systems are trying to bridge the gap and reach communities of color.
The county health department and UAB Medicine are partnering with groups like the local NAACP to host Zoom calls and Facebook Live events. They are organizing with Black community leaders and pastors to build trust and address concerns about the vaccine.
"I think the broad-based education efforts are necessary but not necessarily sufficient," said Dr. Reagan Durant, medical director of the low-income health care facility Cooper Green Mercy Health Services Authority.
Determining Factors Of Health
In addition to more information about the vaccine, Durant said there should be better access to the vaccine in Birmingham's Black neighborhoods.
A community vaccination site run by UAB Hospital has been open for about a week at Parker High School in Smithfield, and some community health centers are now getting vaccine doses. But Durant said not everyone can make it to those sites or navigate the registration systems to secure an appointment.
Getting a COVID-19 vaccine is lower on the priority list for some people, according to Lonnie Hannon, who studies community engagement and teaches at UAB and Tuskegee University.
"Poverty has a lot to do with it. Education level has a lot to do with it," Hannon said. "All of the social determinants of health are really at play here."
He said a person's health is affected by determining factors like their daily environment, stress level, and exposure to trauma.
In Jefferson County, at least 25 percent of Black residents live below the poverty line. Hannon said these people likely have bigger things to worry about than getting a vaccine.
According to both Hannon and Durant, to reach more people, the key is to meet them where they are.
Making it Easy
At the Etheridge Brothers Barbershop, Willie Etheridge keeps fliers around with information on getting vaccinated. He said while there has been limited in-person outreach due to pandemic restrictions, he has seen some efforts, mostly online, to educate Black communities.
"It's not enough, oh no it's not enough," Etheridge said. "But you know, you're kind of limited now because of the situation that we're in."
Loyal customer and local advocate Richard Dickerson said health care workers should be doing more outreach in places like Etheridge's barber shop, where people feel comfortable.
"You've got to go to where Black people are," Dickerson said. "They're in barbershops, they're in beauty parlors. There are still restaurants in the neighborhood where people come."
He said providers have to make the process easy and more accessible.
Jefferson County health officials said they plan to send out community health workers to knock on doors and help people register for vaccination appointments. They also hope to launch mobile vaccination units in the future.
There are several online events planned in coming weeks, including a virtual town hall on Friday about the bioethics of the vaccination, hosted by Tuskegee University and the UAB School of Medicine.
The Alabama Department of Public Health is also looking for ways to connect with communities of color to increase the rates of vaccination. The state is accepting proposals through the end of March and will fund select projects.