Birmingham Mayor Combats Violence Against Children With $125K Incentive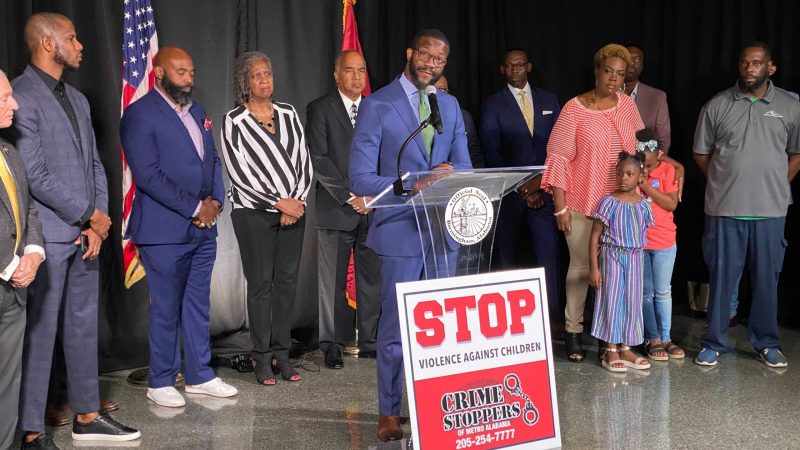 Since January of this year, six children under the age of 10 have been shot in Birmingham, according to police reports. Only one of the shooting incidents has led to an arrest.
It's prompted Mayor Randall Woodfin, Crime Stoppers of Metro Alabama and local faith leaders to team up, together raising $125,000 in cash rewards for anyone with information that will lead to arrests in the unsolved gun violence incidents involving children.
"There's a line that has been crossed when children are hurt," Woodfin said at a press conference Tuesday. "There's a line that has been crossed when children are shot. And there's definitely a line that has been crossed when children are killed."
Many people in the community have been upset about rising crime in the city. However, when an 8-year-old girl was shot in the head on Warrior Road in Ensley, there was an even greater public outcry for city officials to take action.
"Never in a million years would I expect something like that to happen," said Katrina Grady, the girl's mother. "Somebody knows who done this to my child. I want justice."
Grady, who was accompanied by her daughter, called for people to come forward.
"This is pitiful, it's ridiculous. And I hate to say it. It's us. Okay? It's us. And Black lives matter. Every lives matter. But we gotta do better than this. Us as one. As a whole," Grady said.
City-data shows that there have been a number of shootings on the west side of Birmingham, where Grady's daughter was shot. Another place where a lot of gun violence takes place is on the properties of the Housing Authority of Birmingham. Recently, the agency increased its security surveillance on all 14 properties to help decrease violence.
"Enough is enough," said David Northern, CEO of the housing authority. "We all have to take personal responsibility. We have to be a part of the change. We have to make a difference."
The organization donated $25,000 towards the cash rewards.
Frank Barefield, chairman of Crime Stoppers, said the reward money will be given tax-free, and all tips given to the non-profit will be anonymous. There are five separate rewards, each one worth $25,000.
People with information can call Crime Stoppers at 205-254-7777.