Alabama's COVID New-Case Average Quintuples In 10 Days, As Health Officials Struggle To Get More People Vaccinated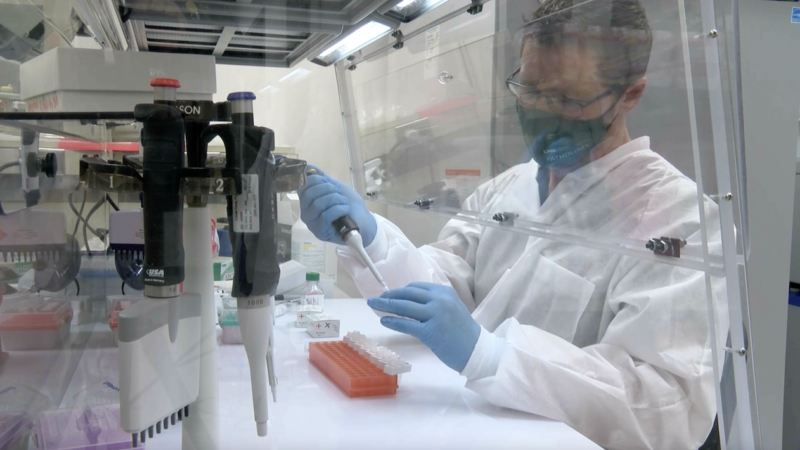 The fears of many Alabama health care professionals may be realized if the latest numbers on new cases of COVID-19 are any indication.
BirminghamWatch's periodic analysis of the number of new cases, hospitalizations and deaths resulting from the virus, spikes have shown up in all major categories over the past two weeks. In some cases, the numbers have multiplied over the period that includes the Fourth of July holiday weekend.
The causes of these increases cannot be precisely pinpointed, but three main factors are in play:
the rise of the more dangerous Delta variant of the virus
the higher number of people gathering in large groups without masks this summer
the low percentage of Alabamians who have been vaccinated.
"It's a combination of 'all of the above,'" said Jefferson County Health Officer Dr. Mark Wilson. "Our vaccination rates are way below where they need to be. We don't have extensive testing yet for the Delta variant, but we do believe that it's rapidly taking over. That is probably driving a lot of this spread since it's so much more contagious than previous variants."
In Wednesday's report from the Alabama Department of Public Health, the 7-day average of new cases stood at 667 per day — more than five times the average of 121 daily new cases on July 5-6 and June 22. The 14-day average, which by design is less susceptible to sudden swings, is at 471 cases per day. That's almost triple the low of 163 recorded on July 5-6.
Deaths attributed to COVID have also spiked over the same period. Over the past two weeks, 81 deaths were reported by the ADPH, with 52 in the last seven days alone. That's an average of 7.43 deaths per day over the week, levels that haven't been that high in a month and nearly triple the lows over the holiday weekend. The 14-day average is up to 6.21 per day, an increase of 85% over the holiday period.
Hospitals are seeing a surge in COVID patients as well, with the number more than doubling in 20 days' time. On Thursday, 367 inpatients across the state were infected with the virus, compared to 177 inpatients on June 25 — the lowest total in 14 months, just after numbers began to be reported.
The current numbers are still much lower than the highs reached back in the winter months when new cases topped 4,000 a day, death counts routinely soared daily above 200, and more than 3,000 people were hospitalized because of the virus. But the sudden jumps in the numbers are confirming what the state's health care leaders have been afraid of for some time: the refusal of many people in Alabama to take the vaccine shots is leading to higher infections coming in the face of the Delta variant's spread across the globe.
Jefferson County has also seen large increases in new cases over the past few weeks. After reporting as few as 90 cases in the seven-day period ending June 13, that figure has almost quadrupled to 355 cases, for a 7-day average of 50.7.
COVID patient counts at UAB Hospital have jumped to 30 patients with active infections on Thursday, a number last seen on May 12. In addition, 16 other patients are convalesced, meaning they are no longer testing positive for COVID but remain hospitalized as they recover from the effects of the virus.
UAB researcher Derek Moates said in a video press conference this week that Delta, which was first identified in India and spread quickly across Europe and Asia, was present in about 70% of the test samples of sequencing tests he ran this month. The variant is far more contagious than the original coronavirus, spreads quicker, and is more likely to attack in Alabama because of the low vaccination rates. That will give Delta a better chance to learn how to defeat vaccines and other body defenses, Moates said, using the analogy of video game players who improve their performance over time by remembering where they previously faced obstacles in their paths.
Currently, 31% of Alabama residents have received the full vaccine regimen, and 37% have taken at least one dose. The Moderna and Pfizer vaccines require two shots, while the Jansen/Johnson & Johnson vaccine requires only one. The state is tied with Mississippi for dead last among all states and territories in the percentage of fully vaccinated residents.
The percentage has stayed close to that level for several weeks, and Wilson believes that efforts to increase vaccinations have hit a roadblock, even though he and his colleagues have tried aggressively to get shots into arms.
"There's still people getting vaccinated every day and we're glad of that, but it's a very slow creep upward," he said. "At this rate, it's going to take a long time for us to reach herd immunity. And with the Delta variant … that are so much more contagious, the number to have some assurance that we have herd immunity is higher than we thought."
Herd immunity is reached when the percentage of a population with immunity to a virus reaches a level sufficient to stop its spread. For the original COVID variant, that level was widely quoted at 70%.
Wilson said that the age groups now being infected are mainly ages 20 to 49, unlike early in the pandemic when more victims were elderly.
"That age group hasn't seemed to see the need to get vaccinated as much as others," he added.
Reasons for refusing the vaccine have ranged from mistrust of government to fear of side effects, something Wilson categorized as "extremely rare." Those who have previously tested positive for COVID may also depend on the immunity acquired from the infection, though Wilson said medical experts aren't quite sure just how long such immunity remains effective.
The inability to get more people to roll up their sleeves and get the shots has frustrated Wilson.
"To be honest, we've done everything we can think of," he said. "We've made major commitments in terms of media campaigns and outreach, and I hate to say this publicly, but I don't personally know what more can do at this point to convince people. I'm hoping that maybe the fact that these numbers are going up may get some people's attention who thought we may be done. I just want people to get the facts, and realize this is something that needs to be taken seriously."