Alabama Republicans Condemn Pro-Trump Mob As Many Vow To Continue The Fight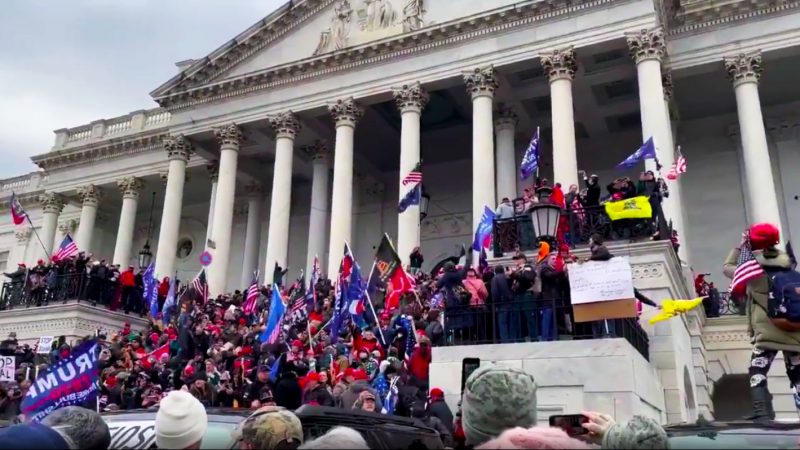 Several Alabama Republicans condemned the actions of a mob that stormed the U.S. Capitol Wednesday as lawmakers attempted to count the electoral college vote, but they did not blame President Donald Trump for the events that unfolded and overwhelmed Capitol Police.
The chaotic rally in support of the president activated the entire D.C. National Guard and led to the fatal shooting of at least one woman. Three others died due to medical emergencies. Among them was 55-year-old Athens native Kevin Greeson. The FBI and other agencies are seeking the public's help to identify people involved in violent insurrection.
Freshman Congressman Barry Moore, a Republican from Enterprise, was sworn in days ago and said he felt safe Wednesday even as he and his staff at one point barricaded his office door with furniture. Reached by phone late Wednesday afternoon, Moore and his staff monitored the situation on social media and television.
"We saw when the breaches occurred and we saw some of the windows being broken and I guess the tear gas being fired off," he said. "People were concerned, obviously, for our safety but we were fine. Never felt threatened here at all."
Moore Wednesday night intended to continue the fight for Trump questioning the integrity of the November election. He said the large crowds of Trump supporters wanted to be heard.
"And granted, some of them got out of hand. I agree with that," he said. "But, you know, we didn't incite it by any means."
U.S. Rep. Mo Brooks of Huntsville earlier Wednesday kicked off a pro-Trump rally near the White House.
"Today is the day American patriots start taking down names and kicking ass," he said.
Later, Brooks condemned the actions of Trump supporters.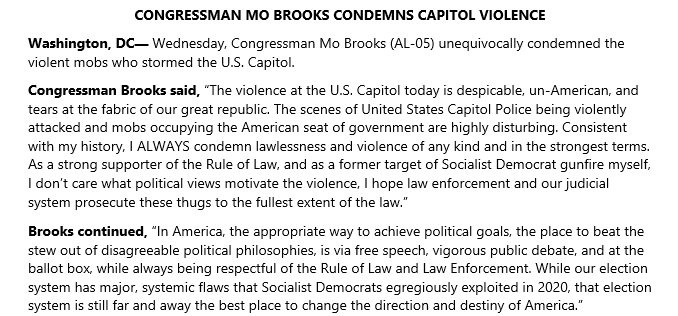 The Alabama Republican Party issued a statement urging Alabamians to make their voices heard by contacting their representatives respectfully.
"We support law enforcement efforts to control and arrest any person who is violating laws and causing harm to property or people," state Republican Party Chair Terry Lathan said. "These actions are not American and cannot be tolerated."
She called the actions of those who stormed the Capitol inexcusable. But she said the president is not to blame.
"Those are personal, individual decisions. Horrible decisions that were made," Lathan said. "Donald Trump didn't make those decisions for them. They did."
Republican U.S. Sen. Richard Shelby, one of the most influential members of the Senate, also condemned the chaos at the Capitol.
Democratic Congresswoman Terri Sewell of Selma said on Twitter she was trembling, but safe.
Republican U.S. Rep. Robert Aderholt in a video posted on Twitter said some of the president's supporters crossed a line.
NPR has the latest updates on the situation in Washington, D.C.
WBHM's Miranda Fulmore, Mary Scott Hodgin, and Janae Pierre contributed reporting.