Alabama Plans To Open Vaccine Eligibility By May 1, But Hesitancy Remains A Problem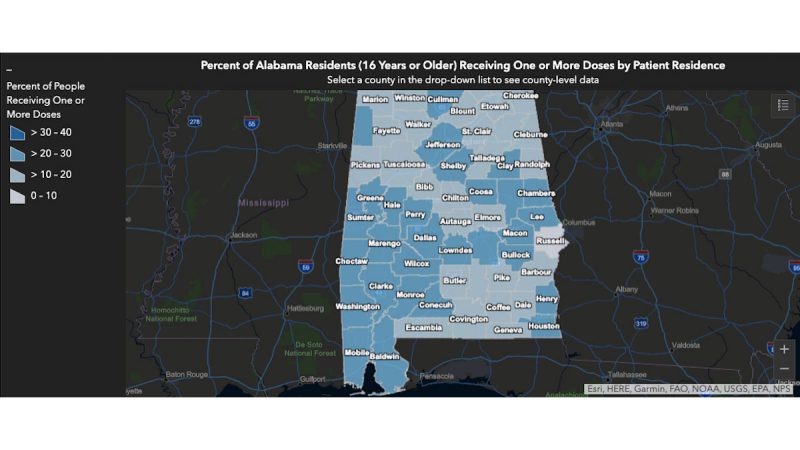 Health officials in Alabama expect to expand COVID-19 vaccine eligibility to all adults by May 1, according to Health Officer Dr. Scott Harris. But he said that may be a challenge because many are reluctant to be vaccinated.
In a Friday press conference, Harris said about one-third of adults in Alabama are hesitant to get the vaccine.
"At this point, we've had enough demand out there that it's hard to know if a county is not getting vaccinated … because they can't find [the] vaccine, or is it because they don't want to take the vaccine? I think we're going to soon have enough product available that we'll be able to make some determinations about that," Harris said.
The state plans to educate hesitant populations about the vaccine, but Harris said ultimately, friends and family will have the ability to "normalize" the vaccine.
As of now, Alabama has given more than 1.3 million shots. About 15% of those have gone to Black residents. But that's still not enough given that they make up about 27% of the state's population, Harris said.
"We continue to allocate our vaccines as fairly and equitably as we can based on where the eligible populations are," Harris said.
The highest vaccinated counties in the state are found in the Black Belt, according to Harris.
About 877,000 Alabamians have received at least one shot and roughly 529,000 people are fully vaccinated. Beginning on Monday, March 22, the state will expand eligibility to adults 55 and older, some critical workers and high-risk individuals of all ages.
"We think that's going to more than double the number of people eligible in our state," Harris said. "Probably between half and two-thirds of all of the adults are going to be covered at that point."
Vaccine Distribution
The state expects to receive somewhere between 110,000 to 120,000 vaccine doses in the coming week, which is about the same as previous weeks.
"At this point, we don't have any indication that we're getting Johnson & Johnson [vaccine doses] until about April," Harris said.
Beginning on Tuesday, March 23, the Alabama National Guard will offer doses at mobile vaccination sites. Teams will visit 24 rural counties over three weeks. You can find a list of those locations here.
Harris said Alabama has 1,265 health care providers enrolled across the state, but that not all of them have received vaccine doses.
In addition to health care providers, state and county vaccination sites, eligible residents can also register for a vaccine at select CVS, Walmart and Walgreens stores. You can find a list of those locations here under the "Federal Pharmacies" tab. Eligible veterans of all ages can make an appointment to be vaccinated through the Birmingham Veterans Affairs Health Care System.