A Change in Programming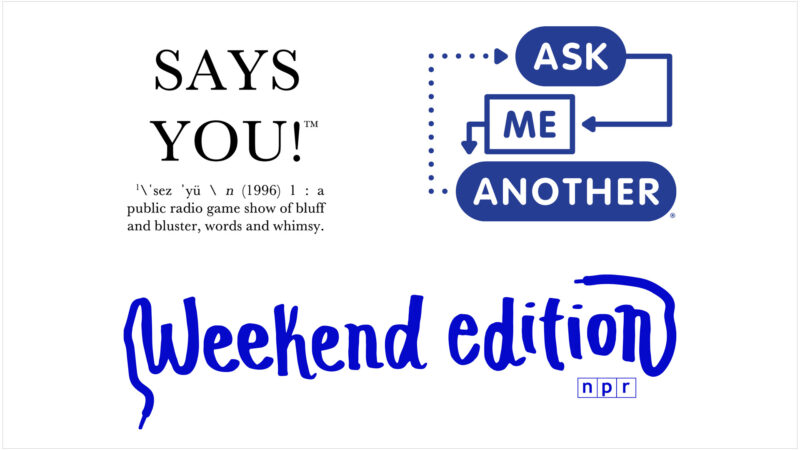 This week, I'm writing to let you know of some upcoming program changes.
TL;DR: Ask Me Another and Says You! are ending resulting in extra hour of Weekend Edition.
After an impressive 25-year run, Says You! is ending production. Billed as "A public radio show of bluff and bluster, words and whimsy," the program airs Friday nights from 6:30 to 7, and for a while, it aired on Saturday mornings also in an hour-long format. Richard Sher, the original host, died in 2015 and the show had since been hosted by several others, most recently Dave Zobel.
Savvy listeners will recall the show came to Birmingham's Vulcan Park in 2004, to WorkPlay and Birmingham Southern College in 2008, and to UAB's Alys Stephens Center in 2016. WBHM member and Says You! superfan Bob Byrd was a frequent contributor to the program as well. The last episode will air on Friday, October 8th, and after that date you'll hear All Things Considered in the Says You! time slot on Friday nights – just as you do Monday through Thursday.
Additionally, Ask Me Another (heard Sundays from 11 to noon) is also ending production. In a statement, NPR said, "Host Ophira Eisenberg, musician Jonathan Coulton, and the entire team each week created an escape from the increasingly difficult news cycle. Each weekend, the show streamed into homes with an hour of laughter, music, and unexpected trivia. Despite the strong work of the team, Ask Me Another never quite found its full audience, and because of our limited resources, we're sunsetting the show." The last episode will air on Sunday, August 29th.
Fortunately, Says You! and Ask Me Another have rich archives and past programs are available via podcast.
With the end of Ask Me Another, we're using this opportunity to make some adjustments to our weekend schedule. Most notably, Weekend Edition will expand to three hours on Saturday and Sunday. In addition, It's Been A Minute will move to a single broadcast Sundays at 10 a.m. followed by Wait Wait Don't Tell Me at 11. The Saturday broadcast of Wait Wait will stay the same.
These changes are a bit more in line with listener's lifestyles and shift Sunday rebroadcasts to a later time. We also have an FAQ page here.
(Through "Programming Notes," we hope to keep you connected to what is happening at WBHM both internally and on-air. Have feedback you'd like to share? Or a programming question? Let me know!)