With New Flag Design, Mississippi Ushers In A New Symbol Of Hope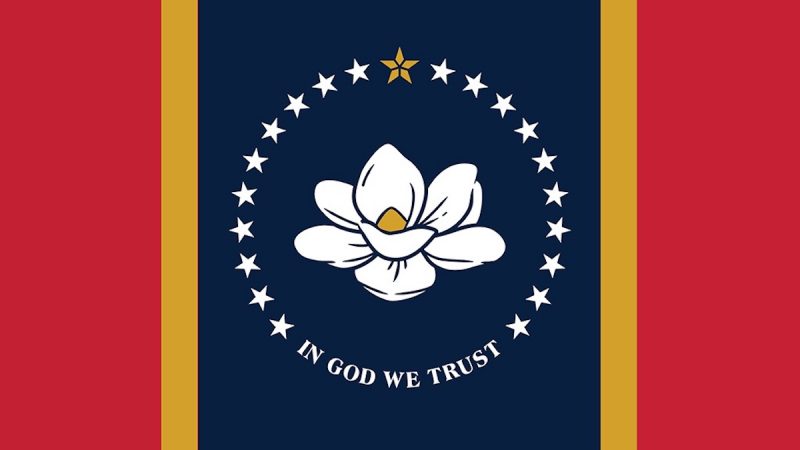 For all his life, the Mississippi state flag was a source of shame for State Sen. David Jordan. The flag contained a Confederate battle emblem at its top left corner.
"That symbol hurt Mississippi," said Jordan, 87.
The flag represented a dark past in the state, consisting of slavery, discrimination and 50 years of what he calls, "knock-off freedom."
"Why is it glorified that this state has enslaved innocent people for 244 years?" Jordan asked. "You want to fly something or put an image up that reminded them of how they were treated?"
Mississippi voters officially chose a new image for the state this week, approving a design that centers the state flower, a magnolia, surrounded by 21 stars and the words, "In God We Trust."
Monuments and symbols of the Confederacy remain all over the country –especially in the South. But for Mississippians, the flag change is a major turning point in the fight to correct racial injustice. Advocates and business leaders say this will open doors for the state and the region to grow, without being held back.
Mississippi's recently-retired flag was the last in the nation to contain a Confederate battle emblem. The 1894 flag was adopted nearly 30 years after the Civil War, under the leadership of Confederate veterans. It stood unopposed for nearly a century. Attempts to remove it in the 1980s and 1990s failed. And in 2001, when a referendum was on the ballot, Mississippians overwhelmingly voted to keep the flag. Some residents felt the flag stood as a symbol of heritage and Southern pride.
Things started to shift in 2015, when a gunman who'd posted photos posing with the Confederate flag killed nine people at a church in Charleston, S.C. Across Mississippi, some municipalities stopped flying the state flag.
This year, after the death of George Floyd sparked protests in Jackson and around the nation, activists renewed calls for a change.
But It wasn't just a moral issue, it was becoming a money issue.
"In many cases, you never know what company maybe didn't even look at Mississippi as a result of [the flag] being there," said Scott Waller, CEO of the Mississippi Economic Council.
When the NCAA prohibited championship games in the state in June because of the flag's imagery, athletic directors and coaches from every public university in Mississippi gathered in the Capitol rotunda calling for a new design.
Not long after, lawmakers overwhelmingly voted to retire the 1894 flag.
"There's so many things that we can now focus our attention on and put this behind us, and really begin to build a stronger and better state," Waller said.
A statewide flag commission received thousands of submissions for a new flag design. Justice Reuben Anderson, the first African American to serve on the Mississippi Supreme Court, chaired the group.
"Five thousand years from now, our flag will be growing and showing and blooming," Anderson said in a speech after the final design was selected. "And we'll send a message to all of America that we are open for business. We'll send a message that we live in the future and not in the past."
The newly-approved "In God We Trust" flag can already be seen on flag poles throughout the state.
"The flag change … shows that broader change is still possible here," said former legislator Jarvis Dortch, of the American Civil Liberties Union of Mississippi."We don't have to accept having low rankings in education and healthcare and infrastructure. It also showed me that we don't have to talk past each other. Democrats and Republicans, Black and white folks in this state –we can sit down and talk about big issues and actually come to an agreement."
This story was produced by the Gulf States Newsroom, a collaboration between Mississippi Public Broadcasting, WBHM in Birmingham, Alabama, WWNO in New Orleans and NPR.