As Sessions Falls out of Favor, More Voters Look to Byrne, Tuberville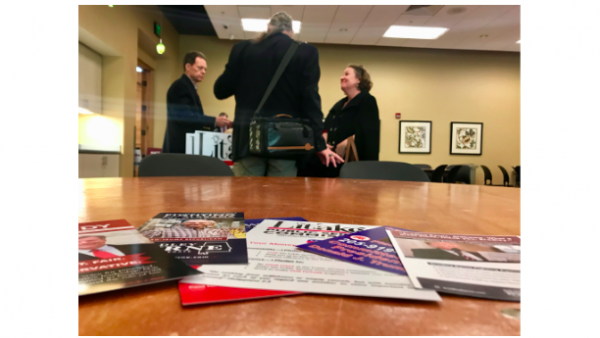 Alabama Republicans will probably tell you some version of this about the top candidates for U.S. Senate in the GOP primary: they all say more or less the same thing. And to Don Ammons, of Vestavia Hills, who was at Saturday's meeting of the Mid Alabama Republican Club, that's not a bad thing.
Congressman Bradley Byrne and former Auburn football coach Tommy Tuberville spoke.
"There's not a whole lot that separates any of them," Ammons says. "They're all for Donald Trump. That makes them a good slate of good candidates."
Jefferson County Commissioner Steve Ammons is Don Ammons's son. They were both at Saturday's meeting at the Vestavia Hills Public Library. Don Ammons supports Congressman Bradley Byrne for what he calls Byrne's demonstrated accomplishments — in Congress, as a state senator and as head of Alabama's two-year college system after a widespread corruption scandal.
Ammons says Jeff Sessions, on the other hand, wasn't a very effective leader. He says Sessions is a great disappointment for abandoning the president and recusing himself from the Russia probe.
"He's a good man, but I think his time has gone," Ammons says.
That's a sentiment several voters at Saturday's gathering expressed. One voter who hasn't soured on Sessions is Grady Thornton, a retired counselor from Coosa County. Thornton says Sessions made the right call.
"My opinion is he had no choice but to recuse himself. Ethically and perhaps legally, he had to do it," Thornton says. "And it has created a lot of anger."
Anger that seems to be helping Byrne and Tuberville. Thornton says those two bring different things to the table.
"I think Mr. Byrne brings a wealth of experience. I think that Mr. Tuberville has an incredible way of interacting with the common man," he says.
"Down-to-earth" is a term several Republicans there used to describe Tuberville. During his brief remarks, wearing a tailored navy suit, Tuberville played that up, calling himself a Washington outsider.
"I'm a football coach," he tells people.
Don Ammons says Tuberville's a nice guy, a good coach, and a good Alabamian, but he should've stuck to football.
Tuberville will also have to win over voters like Dee Erb, a retired teacher who moved to Birmingham from Tampa, Florida two years ago. She is now trying to get a lay of the land.
"I was talking to my my hairdresser because I haven't lived here long enough, so I don't know the candidates," she says.
But Byrne scored name recognition points with Erb. She's seen his ads in heavy rotation on television. And she likes Byrne's apparent strong ties to Trump. In Trump's impeachment acquittal speech last week, he gave Byrne a shout-out – a fact Byrne mentioned twice in his five-minute speech to the crowd. He talked about his experience in Congress and how he plans to support Trump, who Byrne says is cleaning up the swamp in Washington, D.C.
"President Trump is cleaning it up and he needs fighters like me, proven fighters, the ones that he shouted out on Thursday in the White House to stand up with him," Byrne said as he closed his remarks.
Byrne, wearing a gray sweater and jeans, told voters his other priority is to unseat Sen. Doug Jones, saying he was "embarrassed" Jones voted to convict Trump during his impeachment trial.
"If there ever was a moment in which we knew it was time to get rid of Doug, that was it," Byrne said.
Tuberville also put a high priority on taking the Senate seat back from Jones. He also called for elimination of the U.S. Department of Education, saying "liberals" in Washington, D.C. dictate Alabama's course of study.
"We're different than Alaska. We're different from New York. We're different from Georgia," Tuberville said. "We want to teach our kids in this state what our culture is."
Erb says she's a little closer to knowing more about a few of the candidates. But, she says, even after meeting them, it's still tough to know what they're really all about.