Schools Faced Social Distancing Hurdles In Meal Prep And Distribution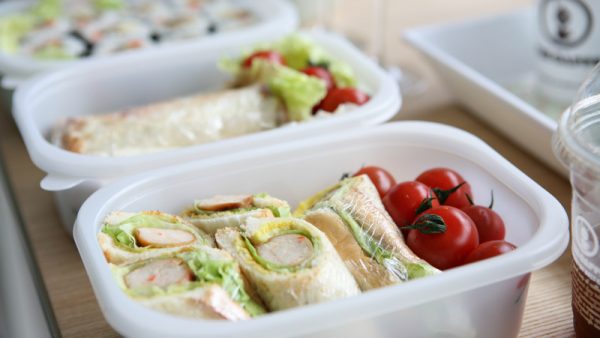 Preparing thousands of school meals for low-income children while school has been out due to coronavirus hasn't been easy. Distributing those meals has been another challenge unto itself. That's why some area school systems have had an on-again off-again relationship with providing meals to children since schools closed statewide about a month ago.
Tens of thousands of low-income children in Birmingham and Jefferson County depend on free or reduced-price school meals. This week marks the first full week that both systems will outsource their feeding programs to a local nonprofit. But with the chaos of coronavirus, things got off to a rocky start.
First Birmingham lunchroom staff made and gave out the meals themselves. Then they sent home extra meals while staff took a week-long break. They later announced the program was ending. Days after that, they re-started it again. Lisa Herring, Birmingham schools superintendent, says adjusting to the realities of coronavirus has been a process.
"Trying to understand what are the guidelines to that, what are the expectations, the social distancing, and then the flexibility around those who are identified as essential workers," she says. "All of us have watched that evolve over the last three weeks."
Jefferson County schools have struggled, too. Like Birmingham, they had their own child nutrition workers prepare meals at area schools and community centers. Teachers and other volunteers would hand them out to students. But Jefferson County school spokesman John Huddleston says kids were so excited to see their teachers again, they'd run up and hug them, which isn't safe.
"That's just one example, though, but the bottom line here is in that previous situation, we had some real concerns about social distancing and that was becoming an issue for us and very hard to maintain," Huddleston says.
So they put their feeding program on a brief hold. Now, both Birmingham and Jefferson County schools are outsourcing meal programs to a local nonprofit called Kikstart, which specializes in food service.
Lunchroom staff are still on the payroll, but Herring says many of those employees were, understandably, concerned about safety, not just for the kids and their parents, "but you've got people, human beings, worried about their own well-being as well."
Huddleston says hiring an outside company cuts down on the number of food prep sites and the number of people involved. But even for Kikstart, which has done school summer feeding programs for years, it's a challenge. Douglas Jackson, co-founder with his wife, says the system he's had to devise to keep volunteers and staffers safe during meal prep is a little tedious.
"The logistics and preparing the meal is probably one of the most difficult things because we have to have a lot of space," Jackson says."We space tables out six foot apart and they become workstations, and no one can leave those workstations."
A runner goes from table to table to grab items and fill bags. Usually lunch is a turkey and cheese sandwich or a wrap with fruit, carrots, ranch, milk. Sometimes they'll make chicken fajita wraps. It depends, he says, on whatever bread products are available. Kikstart receives 700 pounds of bread a day donated from Publix. Jackson says he might spend $2,800 to $4,000 a day on milk alone.
Kikstart is paid through the National School Lunch program, so these meals have to meet federal nutritional guidelines. At the distribution sites, cars line up and a volunteer goes up to each car to see how many meals they'll need.
Jackson says volunteers distributing meals wear face masks and gloves, and truck drivers who drop off the meals have their temperatures taken daily.
He says they'll distribute several thousand meals each day. The challenge, he says, is not to overestimate or underestimate how much they'll need. But he says it's tough to know how many families will come out on any given day. He also tries to avoid duplication. In addition to schools, Kikstart delivers meals to public housing projects in Birmingham and Jefferson County. He says he tries to gauge the various locations where students and their families might have access to meals.
Find information on the Jefferson County school meals program, including days, times and locations here.
Birmingham's program begins Monday, April 13, 2020 and will conclude on Friday, June 5, 2020. Breakfast and lunch will be available Monday-Friday. The district says a schedule of times will be forthcoming.
The feeding program is open to anyone 18 years and younger and will be free of charge. To minimize contact and maintain social distancing, meals will be available by curbside pickup only.
Meals will be distributed at the following sites:
Hudson K-8 3300 F. L. Shuttlesworth Drive, Birmingham, AL 35207
Huffman High 950 Springville Road Birmingham, Alabama 35215
P.D. Jackson Olin High 1300 Avenue F. Ensley, Alabama 35218
A.H. Parker High 400 Rev. Abraham Woods, Jr., Birmingham, Alabama 35204
Ramsay High 1800 13th Avenue South, Birmingham, Alabama 35205
Wenonah High 2800 Wilson Road, Birmingham, Alabama 35221
Woodlawn High 5620 1st Avenue North, Birmingham, Alabama 35212