Rising COVID-19 Cases Starting To Strain Hospital Resources, Staff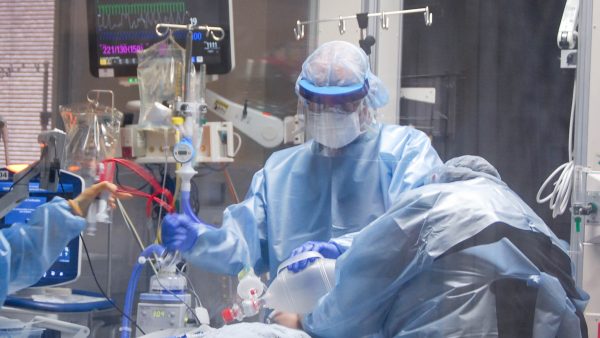 Hospitals across the state are feeling the strain of a growing number of COVID-19 cases but are managing to keep up with patient needs, the president of the Alabama Hospital Association said Tuesday.
"We are in a very precarious and potentially dangerous place right now in dealing with COVID cases," said Dr. Don Williamson, a former state health officer who heads the Hospital Association. "Caseloads in hospitals are worsening fairly rapidly. Today we had 1,289 people in hospitals with COVID. Our seven-day average is now over 1,200 people a day. A month ago, that number was about 850."
The growing number of people who are being treated in hospitals for the coronavirus is spread throughout the state, he said.
UAB had 83 patients under treatment for the disease on Tuesday. That compares with more than 100 patients a day at times during the summer. That number dropped below 50 several weeks ago before beginning a steady rise.
The Huntsville Hospital Health System, which operates eight hospitals across the Tennessee Valley, reported 222 COVID patients systemwide on Tuesday, half of them in hospitals in Madison County. It said 54 of the overall number were in intensive care units, with 22 on ventilators.
Williamson said about 15% of the ICU beds in Alabama hospitals are available.
"The biggest threat that we're facing right now is not beds — it's staffing," he said "That's because as COVID cases rise, patients with COVID need more intensive care than patients without COVID, so that takes more staff."
The Alabama Department of Public Health reported 1,616 new cases of COVID-19 on Tuesday, bringing the state's total to 220,848 since the pandemic began in March. The agency's dashboard showed 3,301 deaths from the disease.
Over the past week, the state has averaged 2,003 new cases a day — up from 1,241 on Nov. 1.
Hospitals so far have been able to maintain the personal safety supplies they need, Williamson said, but access will tighten as the number of patients grows nationwide.
Still, he said, the system will deal with the strain on supplies, facilities, staffing and other needs.
"We know we can handle up to 1,600 COVID patients in hospitals because we did that in July," Williamson said. "When we did that, it created major stresses on hospital infrastructure. I would anticipate that happening again if we get to 1,600, but we will have capacity.
"Hospitals will make it work. It just gets increasingly difficult, the more patients with COVID you have."