Jones Pleads With Public To Follow COVID Safety Guidelines As Cases And Deaths Increase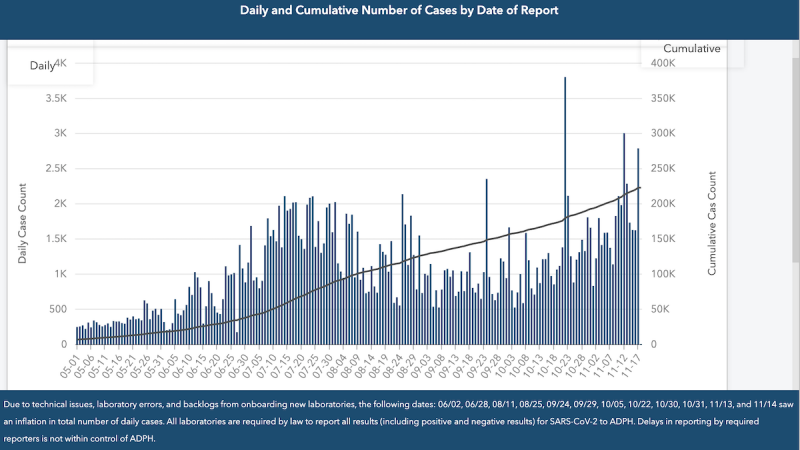 U.S. Sen. Doug Jones on Wednesday urged people to listen to health care officials' advice on the coronavirus, not the opinions of politicians.
"We have now seen another surge in cases," Jones said during a press conference with UAB's Dr. Jeanne Marrazzo. "You will all recall that beginning last April, I kept admonishing folks, 'Please, please listen to our health care professionals. Do not listen to politicians. Do not listen to anyone other than our health care professionals.'
"What we've seen come to pass is exactly what our health care professionals have said," Jones continued. "As we get into the colder months, as we get into the winter, as people let their guard down and get a little COVID fatigue, we are going to see a rise in cases, and we are seeing a dangerous rise in cases at this point, more than we anticipated and more than we even saw in the summer."
Jones pointed out that Alabama is seeing a record number of hospitalizations across the state, with 1,289 people hospitalized with COVID-19 on Tuesday.
"This is not a time to let our guards down," Jones said.
Alabama reported 2,638 new cases of COVID-19 today, which takes the state's total to 223,486 cases since the pandemic began. It also had 46 new deaths reported in today's coronavirus update. So far, 3,347 Alabamians have died from the disease.
Jones said it is vital for people to "exercise the caution and good judgment to try and keep us, our friends, our neighbors, and our families safe and healthy, especially now as we go into a holiday season. Thanksgiving is coming up, the holidays in December are coming up and we've got to make sure that we do all that is necessary."
Marrazzo, who is director of the Division of Infectious Diseases at UAB, said medical professionals are paying close attention to the three major trends of case numbers, hospitalizations and deaths, which all are rising at alarming rates.
"Remember with these trends, cases tend to peak about two weeks before you start to see the most and highest numbers of deaths and hospitalizations, so I can't emphasize enough as the case numbers keep increasing, we can expect that subsequent wave of hospitalizations and people dying to come later," she said.
Marrazzo placed a heavy emphasis on the importance of wearing masks and social distancing as we enter the colder months and the holiday season. "There's also going to be a lot of travel over the holiday season and that is dangerous because people may be bringing infections unknowingly to vulnerable family members and friends, she said.
You Won't See It Coming, Doctor Warns
She stressed that most people get COVID-19 from someone who has not yet developed symptoms or who has an asymptomatic case and will never develop symptoms.
"I know this is a very hard concept for people who don't really study viruses a lot, but this is very, very important, and if you think about the number of people you may know who have gotten infected, the number of people who say they were around somebody who was obviously sick is pretty low.
"We're estimating now that at least 80%, if not more, come from people in that two- to four-day period before they develop symptoms when they are highly infectious or they just never get symptoms in the first place," Marrazzo said.
In the past week, announcements regarding the possibility of two major COVID-19 vaccines have caused an optimistic stir across the United States. Marrazzo said she is hopeful. "These two vaccines look amazing," she said. "I don't use that word often."
The two vaccines, known as the Pfizer and Moderna vaccines, both have an efficacy rate of approximately 95% and are showing little to no side effects. Marrazzo estimates the Moderna vaccine won't be available until "well into 2021," but Jones and Marrazzo both estimate there could be distributed doses of Pfizer by mid-December.
"The Department of Public Health said this week that the state of Alabama could begin receiving successful COVID vaccines by mid-December, but those are going to go to first responders, those are going to go to the most vulnerable," said Jones.
"As Senator Jones said, we may get some shipment of vaccine before the end of the year in Alabama. I certainly hope we do, but those will need to be carefully apportioned to people who are probably first responders and there is a lot of discussion on how this should be done ethically and with the greatest impact of protecting people who are providing care for what we expect to be a continued surge of hospitalizations," said Marrazzo.
Marrazzo shared another optimistic turn regarding outpatient treatment. "We now have an approved treatment for outpatient management, which is a monoclonal antibody called (AR-711). The good thing about that is we have not had anything to give people in the outpatient setting. You don't want to give them steroids, it's not a good idea to give them steroids early in the illness. They don't need antibiotics, this is not a bacterial infection. So we now will have access to at least probably about a thousand doses or so of this medication. We're really excited to start using that so we can try and keep people out of the hospital," she said.
Marrazzo said the good news of these vaccines should not encourage people to desist from mask wearing or social distancing.
"I don't want the good news to change anybody's behavior just yet. In fact, I would like people to continue to behave as if we do not have a vaccine because, in reality, we don't have a vaccine yet, and we won't have a vaccine for everybody probably well into 2021," she said.
Jones supported Marrazzo's statement and once again encouraged the public to practice smart and cautious decision-making to help prevent the spread of the virus. "Until (the vaccines) are widely available, and it is going to be some time before they're widely available, we've got to do everything possible to prevent the spread of the virus," he said.
Federal Relief
Jones reminded people that, under federal Cares Act provisions, COVID-19 vaccines and treatments should be covered by most private health insurance groups. Jones said, "No one should be denied the opportunity to get a vaccine."
He also said the government needs to focus on passing legislation to provide financial packages that help people and businesses.
"We've got to do more for people, we've got to do more for businesses. We still need to do things for state and local governments. At the end of the year without any congressional action, our emergency unemployment will end, the eviction moratorium will end, student loan forbearance will end and this is all going to come at a time when we are still struggling to get the economy moving back in the right direction and struggling to get the virus under control, which we have not done just yet.
"I think people have waited for this relief, they have been patient, the election is behind us and now we need to do what is right for the American people. We cannot wait any longer, in my view," Jones said.