Gov. Ivey Issues Statewide Mask Order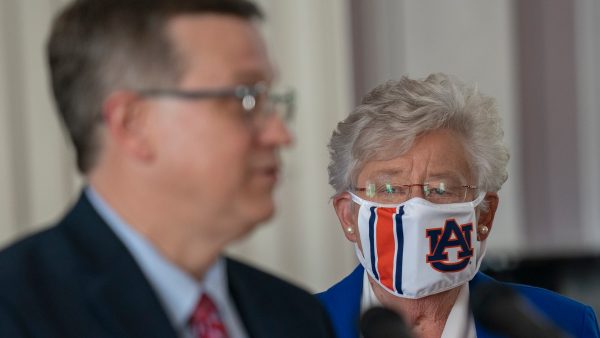 Beginning 5 p.m. Thursday, face coverings will be required in public spaces throughout Alabama. Gov. Kay Ivey issued the order Wednesday, citing recent record-breaking increases in COVID-19 cases, hospitalizations and deaths across the state.
"Despite all our best efforts," Ivey said during a press conference, "we are almost to the point where hospital ICU's are overwhelmed."
Several cities and counties have passed local mask ordinances in recent weeks and many health experts have called for a statewide order. Ivey said the requirement will be difficult to enforce and she prefers "personal responsibility over a government mandate," but she said the goal is to demonstrate the importance and the urgency of face coverings. She said residents must change their behavior to protect one another.
"Clearly there are some other more restrictive actions that we could take," Ivey said, "such as closing things back down. But I don't want to go there unless there are absolutely no other options available."
Dr. Scott Harris, state health officer with the Alabama Department of Public Health, also spoke during Wednesday's press conference. He said Alabama set several records overnight, adding 2,100 new cases and more than 40 deaths. He said there are more than 2,000 people hospitalized who are suspected or confirmed to have the virus. Harris said the state is not headed in the right direction and face coverings help slow transmission.
"We really don't have a lot of other options at this time," Harris said. "People certainly will be upset about being told to do anything, but this is a health order that protects the people around you. This is something that we do because it keeps other people safe."
The statewide order requires residents to wear masks in indoor spaces open to the public, vehicles operated by a transportation service, and outdoor public spaces where ten or more people are gathered. There are several exceptions to the order, including situations where mask use is "incompatible with the realities of life." Masks are not required for children ages six and younger, while eating or drinking, during exercise, during religious worship or while voting.
Ivey said she is not asking local law enforcement to "seek out people" who refuse to comply with the order, though it is enforceable with a $500 fine or jail time.
Both the statewide mask order and the Safer at Home order are set to expire July 31.
Safer-at-Home-Order-Mask-Am… by Mary Hodgin on Scribd