Fauci Says Alabama Still Could Rein In COVID-19, Even As Cases Spread Among Young People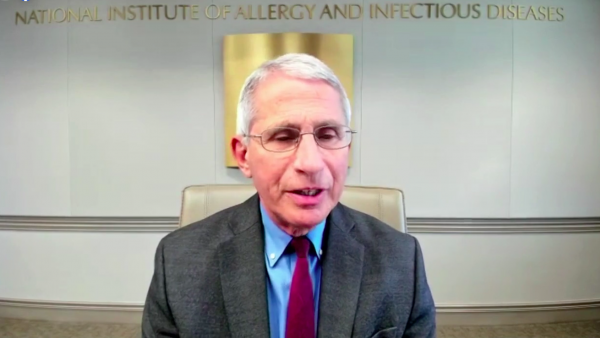 Dr. Anthony Fauci said even though Alabama has seen a rapid rise in the number of COVID-19 cases since Memorial Day, the state now has "a window of opportunity" to slow the virus outbreak.
Fauci, director of the National Institute of Allergy and Infectious Diseases, said Tuesday in a press conference with Alabama Sen. Doug Jones that the methods to slow the spread of virus are known: washing hands, wearing masks, social distancing and closing bars.
"Indoor bars are the perfect setup for the virus to spread," he said.
The reopening of bars and resumption of large events with little social distance has put younger people in the virus' cross hairs.
Last month, Jones said, the median age of virus victims in the state dropped 15 years. In Alabama, the largest portion of people testing positive for the disease is now those in the 25- to 49-year age range, according to the Alabama Department of Public Health.
"Alabama cases are rising and rising fast," Jones said. He said that, as of Tuesday, the state had 45,263 cases of the virus and 1,016 people hospitalized with the virus. "Cases have risen 30% of those 45,263 cases in the last two weeks."
"The cases came after Memorial Day, after we loosened restrictions, when people started ignoring the signs about wearing the masks and social distancing," Jones said.
Alabama's largest cities have imposed mandatory mask ordinances, even though state officials, including Gov. Kay Ivey, have left the matter to individuals.
Huntsville joined Birmingham, Mobile, Montgomery and Tuscaloosa with a mask ordinance in that city to be enforced beginning at 5 p.m. Tuesday. Huntsville has seen a 660% increase in the number of COVID hospitalizations since June 16, according to city officials.
Fauci said that, in the absence of a statewide mask mandate, community and business leaders need to step up. "That way there is no mixed signal sent to people. It is wrong to not wear a mask. Period," he said.
Fauci said the U.S. had peaked at a baseline of 20,000 virus cases per day, a trend that lasted for months until a couple of weeks ago.
"When we tried to start opening the economy, we now have 57,000 cases (per day) which is almost double what it was," he said. "We have got to try to open; but in a safe, measured and prudent manner."
As cases rise, so does the impact on younger people. For months, the largest group hit by the virus were those aged 50 to 64, according to the Health Department. Now it's those 25 to 49.
Fauci said, generally, young people do not suffer as serious consequences as the elderly, and because they are healthier, their death rate is lower.
"But if you allow yourself to get infected, you are part of the problem," Fauci said.
He warned that young people who do not adhere to wearing masks, social distancing and handwashing are "propagating the pandemic," even though some may not know it.
In addition, having a lower death rate from COVID-19 does not mean young people escape symptoms altogether. Along with rising positive test rates among younger people, the hospitalization rates for children and teenagers with also has risen in the past couple of weeks.
School Openings
Jones asked Fauci about the safety of Alabama reopening public schools next month.
Fauci said communities should try to get schools reopened, but without risking the health of the children, faculty and parents.
"We want to follow guidelines of safety. In some counties, the level of infection is so low that schools can reopen with little precaution," he said.
"But in other counties, in other parts of the state, with higher levels of the infection; school officials may want to take precautions such as masks at all times, alternating morning and afternoon classes, decrease the size and space between desks.
"The bottom line is that it is not going to be a one size fits all. It is going to be the level of infection," Fauci said.
Jones urged parents to work with school system officials to keep their kids healthy.