COVID-19 Repercussions Will Strain Next Fiscal Year's State Budget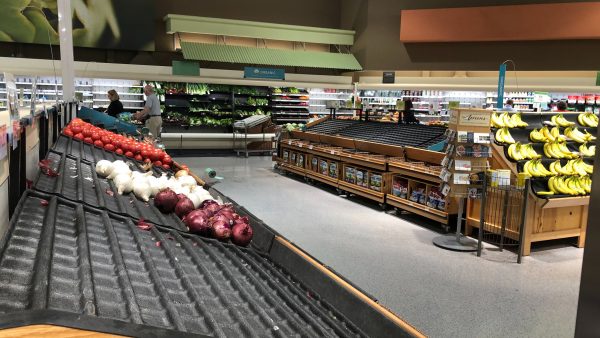 The coronavirus pandemic has forced many state legislatures to consider how and when they can meet safely. Alabama is no different. State lawmakers have hit the pause button on legislative business for now. But with large numbers of layoffs on the horizon and big cuts to the state's income and sales tax revenue, there's a lot of uncertainty around the state budget. Don Dailey, host of Alabama Public Television's Capitol Journal tells WBHM's Gigi Douban this week, it's been eerily quiet in Montgomery.
The Statehouse is a Ghost Town
Gov. Kay Ivey told state employees last week to do as much work from home as possible, but added that essential services would need to continue.
"The Statehouse, for instance, is pretty much a ghost town this week," Dailey says. "There are people working here this week, not nearly as many, obviously, as there normally would be. But key personnel from various agencies and in certain of the legislative offices have been coming in on an as-needed basis."
Dailey says there is a sense in Montgomery that things are not operating normally and won't be for the foreseeable future.
Where the State is Spending its Money
Before the legislative spring break began, lawmakers approved a $5 million supplemental appropriation to help the state deal with the spread of the coronavirus.
"A lot of that was aimed at expanding testing across the state. And we have slowly but surely seen an increase in testing across the counties in Alabama," Dailey says. "But more of that will be taking shape in the next week or two."
There are other areas that need attention.
"Jobless benefits claims spiked dramatically this week because there are certain people who just can't work during this. We'll have Labor Secretary Fitzgerald Washington on our show tonight (Friday), and he'll talk about what we've seen unfold in the last week and the modification of rules regarding his department to help people in this situation."
Restaurant restrictions mean many service industry staff will be affected by this.
"The restaurants are up pretty much operating on a takeout only status right now. So that's going to really affect restaurant servers in the short term," Dailey says.
Ripple Effects on the State Budget
It's too early for specific figures, but Dailey says the various legislative budget chairs over the last several days have said they're going to have to reevaluate the budgets that they will ultimately pass in this legislative session for next fiscal year.
"The current fiscal year budget, which runs through October 1st, will not be affected," Dailey says.
But coronavirus has caused widespread economic strains, particularly on revenue streams that flow into both the general fund and the education trust fund budgets. That includes income and sales taxes, and the various other revenue streams that affect the budget.
"There are a lot of unknowns right now, but they're going to have to reevaluate things as we move forward about how much money can be allocated here or there based on the hit that these these revenue streams take," Dailey says. "So there will be a hit that will be taken. We just don't know at this point how much of a hit."
Legislative Agenda on Hold
The rules for legislative meetings are somewhat relaxed under an emergency declaration. Dailey says next week we'll know what the House decides to do moving forward.
"The Senate wasn't set to come back until week after next, so a lot's up in the air," Dailey says. "And I wouldn't be surprised if the legislature delays coming back from its spring break at least another week, if not longer."