COVID-19 Cases Hit Record High Average For The Past Two Weeks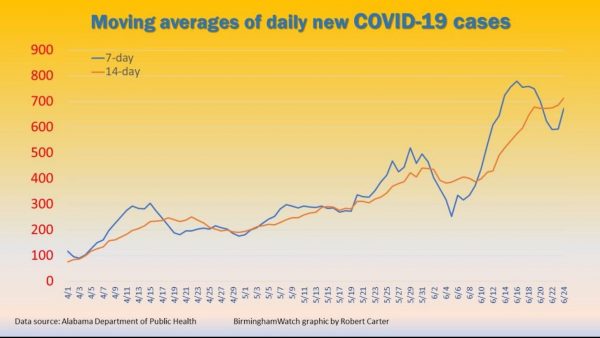 Alabama's uphill battle with the COVID-19 outbreak continues, as the 14-day moving average of new daily cases set a new high Wednesday.
After turning downward during the middle of the last 7-day period, the number of new cases reported by the Alabama Department of Public Health zoomed upward in the past couple of days. The 14-day moving average has now surpassed the 700 mark, topping out at 714.14 on Wednesday, while the 7-day average moved to 672.89 — a jump of 80 new daily cases in just 24 hours.
While the shorter-term average has gone through peaks and valleys this month, the longer-term number has risen by almost 79% in two weeks' time.
It's a trend that has given leaders in other states pause, prompting governors in three Northeastern states — New York, Connecticut and New Jersey — to require travelers arriving there from Alabama and seven other states to quarantine for 14 days. It's an effort by those governors to preserve inroads made into the COVID-19 pandemic in the area, which at one point was the epicenter of the disease in this country. Kansas also has banned Alabama travelers without a quarantine.
The northeastern quarantine order affects travelers from states that meet either of two criteria. One is having an average of at least 10 out of every 100,000 residents to test positive per day over a rolling seven-day period. The second is a positivity rate — the percentage of those tested who are found to be positive — of at least 10 percent.
In the latest ADPH chart on the positivity rate, 10.9% of those tested from June 14 to June 20 are shown positive. However, for the past seven days, the state had 4,710 total positives among those tested, for a rate of 9.81%, according to BirminghamWatch calculations.
BirminghamWatch computes the moving averages based on data updated each morning by the ADPH. BirminghamWatch's averages are for periods ending Wednesday, June 24.
The past seven days have shown yet another wild swing in the numbers of new cases reported each day, from a low of 433 on Monday to a high of 954 Tuesday. The latter number is the second-highest daily mark since reporting began in mid-March.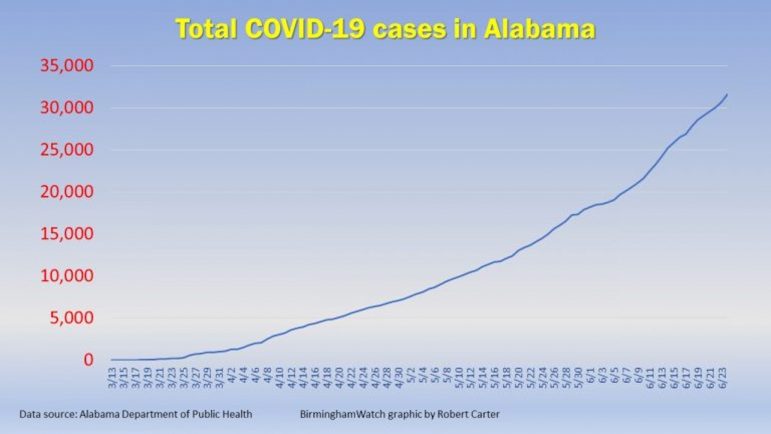 The number of total positive cases rose by 17.5% over the past seven days, from 26,914 to 31,624. The moving average rate of increase in new cases trended downward, though, and it now stands at an average increase of 2.28%. In the previous seven-day period, the new cases were going up by more than 3% a day for four straight days.
The number of deaths attributed to COVID-19 has started to rise again, and the seven-day moving average has more than doubled from a week ago. The ADPH reported 95 deaths in the previous week, compared to 45 in the seven days ending June 17.
The death toll stood at 954 as of 10 a.m. Wednesday. The 7-day average of additional deaths each day stood at 13.57, compared to 6.43 on June 17.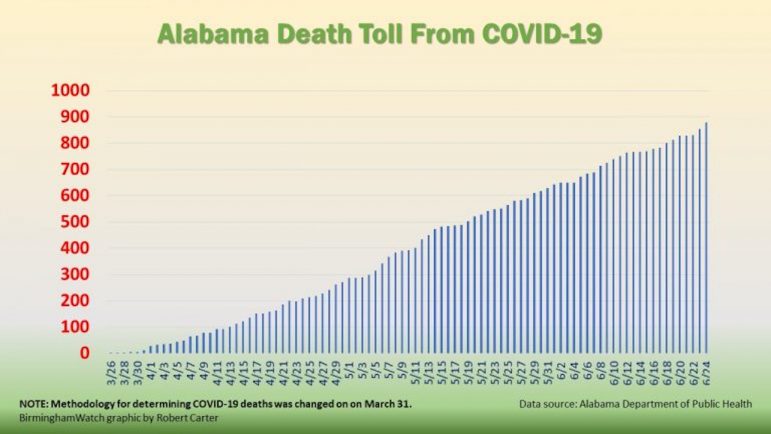 The 14-day moving average of deaths stood at 10, staying within a fairly tight range over that timeframe.
The ADPH dashboard shows that 358,319 tests have been conducted in the state since the outbreak began, with almost 48,000 tests in the past week.
The health department also is reporting 440 more probable cases of COVID-19 and 12 more probable deaths, which health officials are working to verify.
The ADPH also reported there are 18,866 "presumed recoveries," up from 15,974 last week.
County Results
Montgomery County still leads the state with the most COVID-19 cases —3,394. Jefferson County remains in second place, with 3,187 cases, and Mobile in third, with 3,164 cases. Tuscaloosa County remains fourth in cases with 1,665 positives, and Marshall County is still fifth with 1,182.
Mobile County again has reported the most deaths with 134. Jefferson County is just behind with 129, Montgomery County is third with 87 and Tallapoosa County is fourth with 69.
Madison County, the state's second largest by population, reports 753 cases out of 24,400 tests, for a positivity rate of 3.0%, by far the lowest of the five largest counties. Its numbers place it 10th in the state. Six deaths have been blamed on the outbreak there.
In the metro Birmingham area, Shelby County reports 843 positive cases. Walker County reports 731 cases. St. Clair County is up to 219 cases, Bibb County has 138 and Blount County has 165 — a hike of more than 36% from last week. Shelby County reported three additional deaths for the week to move to 23, Walker doubled to 12 and St. Clair remains at two. Bibb and Blount counties held yet again at one death each, as they have for the past four weeks.