Birmingham Offers 'Beacon' For Alabama's Transgender Community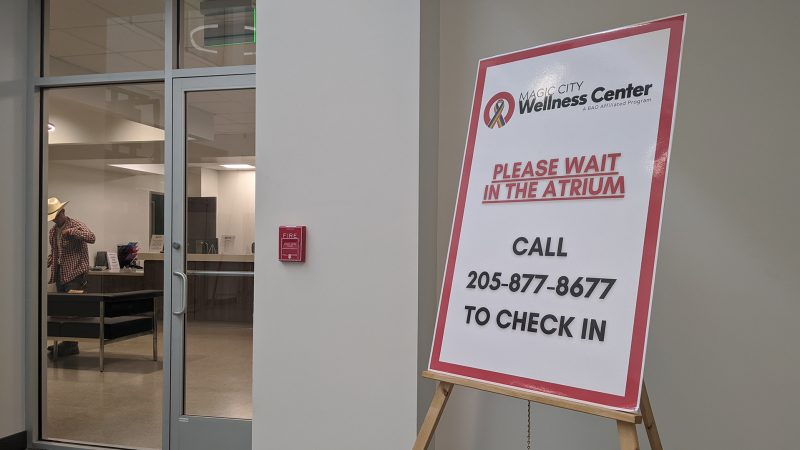 For people in the transgender community, it is often difficult to find health care providers who respect their gender identity and can help with the transitioning process. That can lead to care delays for gender-related services and everyday medical needs. In Birmingham, a growing number of providers are expanding access to care for trans people throughout the state.
Reaching The Community
When the Magic City Wellness Center (MCWC) opened in 2016, director Will Rainer said it was the first clinic in Alabama to openly advertise as LGBTQ friendly.
"I'm often asked sometimes, it's like 'do you have to be gay to go there?' And that's not what it is," Rainer said. "But we wanted to make sure that we got the word out there and people knew that that's what we were all about."
MCWC is expanding and now sees patients in a new, larger space in downtown Birmingham that opened last month.
The wellness center offers primary care and services like counseling and HIV treatment and prevention. It also specializes in trans health care, offering hormone replacement therapy.
Rainer said the center has approximately 1,000 patients, and about 400 are transgender.
"That community in particular, we have become kind of, I'm not trying to sound cheesy, almost a little bit of a beacon," he said.
Rainer said their transgender patients come from all over Alabama and surrounding states.
Finding Affirming Care
At 46 years old, Jazmine Partin transitioned about four years ago. She lives in Tuscaloosa, but travels to MCWC in Birmingham for all her medical needs. 
"There's no place in Tuscaloosa that I could receive trans care, no place I could go get my hormones, no place I feel comfortable," Partin said. "Even now, if I go to the emergency room, they look at me like I'm an alien, like, not human."
That can be a common experience, according to Ivy Hill with the Campaign for Southern Equality, a legal nonprofit that advocates for the LGBTQ community.
Hill said for years, people have struggled to find trans health care in the South.
"A lot of the ways that people were finding doctors who would treat them with dignity and respect was through word of mouth," Hill said.
To help people find appropriate care, the Campaign for Southern Equality now publishes a medical resource guide for the trans community.
But the search for a doctor can still be an uphill battle. Alabama was one of several states that recently proposed banning gender affirming care for trans youth. The bill passed in the senate this spring, but was postponed due to COVID-19.
Despite the roadblocks, Hill said there has been progress in recent years, and awareness is key.
"There are care providers in every town across the South who want to provide affirming care and don't know that they're able to," Hill said.
Hill said an essential step is education for health care providers, to learn what questions to ask and the importance of pronouns. Hill believes that should be included in routine medical training.
A 'Three-Prong Binder'
In Birmingham, a growing number of providers are reaching out to the trans community.
UAB Medicine now has a specialized gender health clinic that includes comprehensive care and gender affirming surgical options. A local speech language pathologist recently started Steel City Voice Therapy to offer voice modification.
The group Transgender Advocates Knowledgable Empowering (TAKE) has been around for years, connecting trans people of color with services like housing and transportation. Program director Toi Washington said there are more resources now, but the next step is collaboration.
"We all have different things and different areas that we focus on," Washington said. "And I do believe that if we're able to be a three-prong binder, we can do more."
She is also pushing for more support from city and state officials, especially to combat discrimination against the transgender community.
Expanding Capacity
At the Magic City Wellness Center, staff members are still adding the final touches to the new building.
Director Will Rainer said they've more than doubled their capacity and hope to reach more patients. He said everyone should feel comfortable getting the care they need.
"We've gotten people into care who have not been to the doctor in 10 to 15 years because of stigmas, nervous to communicate with a doctor who might not be affirming," Rainer said.
He said things are moving in the right direction. And he hopes it keeps getting better, not just in Birmingham but throughout Alabama.