Birmingham City Council Delays Vote on Five Points West/CrossPlex Grant
By Sam Prickett
The Birmingham City Council on Monday delayed voting on an item granting funding to the Five Points West/CrossPlex Business Alliance under the city's Building Opportunities for Lasting Development (BOLD) initiative.
The grant, proposed by Mayor Randall Woodfin's office, would give the Five Points West/CrossPlex Business Alliance $26,500 to use for a variety of initiatives, including the creation of five new murals, the development of a training and resource program for the area's business community, the establishment of a business office for the alliance, and the collection of data regarding businesses and commercial properties in the Five Points West commercial corridor.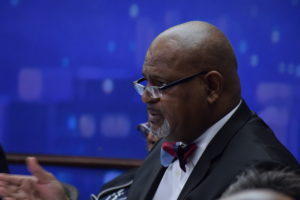 The two-week delay was called for by District 8 Councilor Steven Hoyt, who represents the area.
"My office is in a fact-finding mode, and we just need to finish," he said. "The holiday caught us, and I think if we had a two-week delay, that would help us to finish contacting all the businesspersons over there."
The council voted unanimously for the delay.
Hoyt has been a vocal critic of Woodfin's BOLD program since its beginning, arguing that the organizations receiving funding — including REV Birmingham, the Birmingham Business Alliance and the Jones Valley Urban Farm — do not work enough with communities in western Birmingham.
The item regarding funding for the Five Points West/CrossPlex Business Alliance will come before the council again on Jan. 14.
The council also voted to set a public hearing for Jan. 28 regarding the rezoning of property surrounding the former Carraway Hospital to allow for mixed-use development. The hospital, located at 1600 Carraway Boulevard, closed in 2008 and has been abandoned ever since. Earlier this year, Corporate Realty announced plans to transform the hospital into a development including retail, entertainment, hotel, residential and office space. Several properties along 15th Avenue North and Walnut Hill Circle will be considered for rezoning after the hearing.