The Big Q: Coronavirus In Alabama. What Do I Need To Know?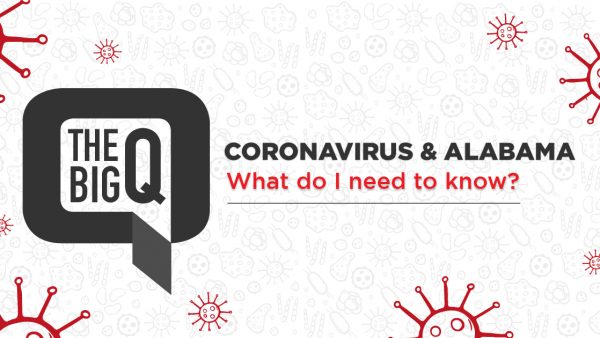 Alabama announced its first confirmed case of coronavirus Friday. Gov. Kay Ivey urged residents to remain calm.
"Alabamians are smart and savvy, and I know they will continue taking appropriate precautions to prevent the spread to themselves or others," she said in a statement. "We have taken a calm and collected approach in preparation for this first confirmed case, and we need to remember that calm and steady wins the race. Alabamians should not be fearful, but instead, use commonsense to watch out for themselves and others. We will remain engaged on the matter and continue prioritizing the health and wellbeing of all Alabamians."
But for state residents, there are still many unknowns. People are fearful of what's to come.
We cut through some of that fear and uncertainty with the most up-to-date information from the experts. Andrew Yeager hosts "The Big Q: Coronavirus and Alabama. What do I need to know?"
We discuss the latest on the disease, how to stay healthy, and what it means for schools and businesses in Alabama. Our guests take your questions.
Guests
Dr. Mark Wilson, health officer for Jefferson County
Dr. Mary McIntyre, chief medical officer for the Alabama Department of Public Health
Anthony C. Hood, PhD, UAB business professor
Dr. Richard deShazo, UAB professor of medicine
For more information about COVID-19, from testing to how to make homemade hand sanitizer, check out WBHM's resource guide.