Alabama's COVID-19 Case Averages Reach New Highs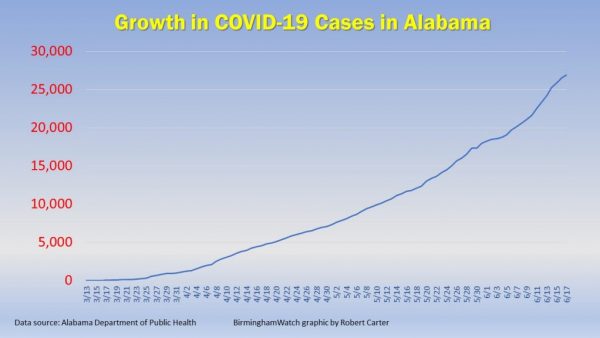 By Robert Carter, BirminghamWatch
The seven-day and 14-day moving averages of new COVID-19 cases per day in Alabama have reached their highest levels since the beginning of the outbreak, with sharp increases since the beginning of June.
The moving averages in the weekly BirminghamWatch analysis have steadily climbed. The seven-day moving average set a record high Tuesday, with 779.0 cases per day, more than doubling between June 9 and 16 and almost tripling since June 6. The current 14-day average of 597.14 new daily cases is the current record, nearly 50% higher than the level seven days ago.
BirminghamWatch computes the moving averages based on data updated each morning by the Alabama Department of Public Health. The averages are for periods ending Wednesday.
During the past seven days, the number of COVID-19-positive results reported in a single day surpassed 1,000 for the first time since the outbreak reached pandemic status, with 1,014 new cases on Sunday. That was preceded by three straight days of new cases totaling 848 or more. But after Sunday's record, the numbers have fallen off sharply, with just 390 new positives on Wednesday. That's a drop from the new high of more than 60% in three days.
Over the past seven days, the number of total cases rose by 24.5%, from 21,626 to 26,914. The increase is enough to attract the attention of national news media, which in the past week have reported Alabama as one of several states where positive case numbers have significantly risen in the wake of relaxed restrictions on work, leisure activities and gatherings.
The moving average rate of increase in new cases also has gone up, indicating that the raw number of positive diagnoses is not just increasing, but it's doing so faster than before. The seven-day average rate of daily increase has been at or above 3.07% for each of the past four days; in the previous seven-day period, that rate stayed mostly below 2%.
But while new cases have spiked, the number of deaths attributed to COVID-19 has decreased sharply, and the seven-day moving average has been cut by more than half. The ADPH reported just 45 deaths in the previous week, with four of the last five days having five deaths or fewer. The death toll stood at 784 as of 10 a.m. Wednesday, and the seven-day moving average of additional deaths each day stood at 6.43 — down from 14.14 six days beforehand.
The dashboard also shows that an additional 398 probable cases of COVID-19 have been reported; this number moves up or down each day as officials confirm or reject a positive result. Six deaths are listed as probable as of Wednesday; those numbers also move as determinations are made on individual deaths.
The ADPH reports that 15,974 of those who tested positive are "presumed recoveries," up from 13,508 last week. That number includes cases in which "it has been 14 days or more since the case tested positive if they were not hospitalized, or if it has been 32 days or more since the case tested positive if they were hospitalized or if hospitalization was unknown," according to the ADPH.
In county-by-county data, Montgomery County has now passed Mobile County with the most cases. Montgomery County is up to 2,956 cases with 71 deaths, while Mobile County has now reported 2,788 cases and 130 deaths. Jefferson County is third in cases with 2,647 but second in deaths with 120. Tuscaloosa County is fourth in cases with 1,418 positive cases and is now fourth overall, but with just 23 fatalities. Marshall County remains fifth in cases with 956, up 192 in the past week, but has reported only nine deaths.
Madison County, home to Huntsville and now estimated by the U.S. Census to have passed Mobile County as the second largest in Alabama by population, has reported only 577 positive cases and six deaths, ranking it 11th in the state. In total, 21,096 people have been tested in the county, giving it a positive rate of 2.7%, which reflects the percentage of tests that have returned a positive result.
By contrast, Montgomery County has 2,956 cases out of 15,726 tests, for a positive rate of 18.8% Jefferson County's rate is just less than 5%. The state's overall rate was 8.67% as of Wednesday.­