Alabama Schools To Open In August, But Parents Have Home Education Option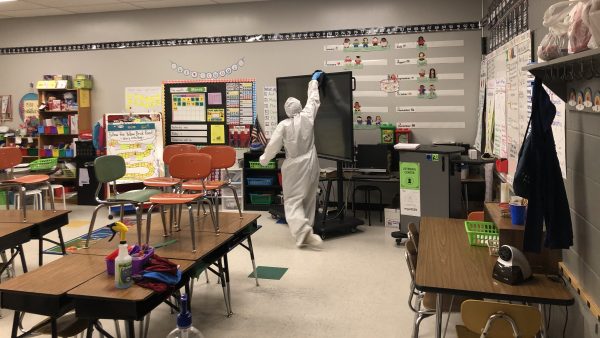 Alabama public schools will reopen in August despite the COVID-19 pandemic, but parents will be given the option of continuing distance learning, Alabama Schools Superintendent Dr. Eric Mackey said this morning.
Mackey said a survey done by the state Department of Education found that 15% of parents do not want their children to return to a school campus.
"Campuses will reopen for personal instruction. They will be physically open with remote learning," Mackey said.
Local boards of education will make decisions regarding school campuses throughout the year, he said. But those decisions will be made with recommendations from the state school superintendent and the state health officer.
Mackey said the school will be traditional, but the classrooms will not look the same, with students distanced from each other.
State Health Officer Dr. Scott Harris, who worked with the Department of Education on school reopenings, reiterated that "none of us are sure what the situation will be in August."
Harris said there "will likely be outbreaks" of the virus from the extracurricular events associated with schools.
School openings will include the return of athletics, but that, too, will look different with safety protocols in place, Mackey said. He said state education officials are still refining those protocols.
"It will be a traditional school," Mackey said, with changes to classes and lunchrooms.
Local school boards can decide whether they will reopen, according to the roadmap of school reopenings.
Ricardo Cameron is the parent of a third-grader at Helena Intermediate School. For the most part, he agreed with the state plan to allow local boards of education to make decisions about school operations during the pandemic because they each face their own unique circumstances.
With most decisions being made by local officials, he said, "I'm comfortable with it. Alabama has different dynamics, whether you are in rural Alabama or the larger urban cities and metropolitan areas. I know this because I work in health care, and travel up and down the state of Alabama.
"If you want to give that responsibility to the boards of education in those areas, I think they know a little more about what's happening on a day-to-day basis," he said.
Cameron disagreed with the current plan's lack of a requirement for wearing face coverings.
"I just wish that the public health [department] and department of education would mandate the masks for kids when they return to school," he said. "Mandating the mask inside of the school systems will certainly be a benefit for those young children that we love so much, to get back in school, to interact with each other without spreading the virus."
Cameron also noted that his family is feeling the effects of the coronavirus pandemic from multiple directions. "I have a wife who is an educator in Birmingham City Schools, my oldest daughter is going off to school at Samford University attending her freshman year, and I also have that third-grader. So, we have experienced a different dynamic in our household, since the pandemic started.
Phil Vander Kamp, a sixth-grade social studies teacher at Pizitz Middle School in Vestavia Hills, said the state is heading in the right direction in terms of local control of schools.
"I don't blame the department of ed for depending on the local boards of education to make the final determinations of their schools," he said. "I mean there is a lot to consider."
Vander Kamp said each school district must consider critical details based on the layout of its schools, such as how to physically distance in hallways and in the cafeteria, as well as in classrooms. Also, he said, each locality may have different infection rates that could cause local officials to enact limits at schools or close them all together.
Richard Banks contributed to this report.