Sidewalk Cinema Debuts in Birmingham Soon
Chloe Cook, Sidewalk Film Festival's executive director, was going through sample carpets recently at the new Sidewalk Cinema and Film Center. She says construction is right on schedule.
The theater will have two lounge areas, a bar, and comfy theater seats. There's also a large classroom that will be used for youth programs and film education. 
Sidewalk started fundraising for the cinema in 2016 and has raised $4.2 million. Cook says the mission is the same as the film festival's.
"To promote filmmaking in the state of Alabama and to promote audience building for independent film so that underrepresented voices have an audience for their stories" she says.
The two-theater cinema will screen indie films 365 days a year. Cook says it's been a longtime dream for Sidewalk. More than two decades ago, a group of filmmakers thought Birmingham needed an art house cinema. But the group's first priority was to launch an annual film festival. 
Today, people seem ready to support the new cinema.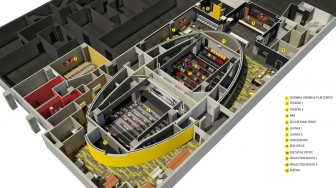 Virginia Newcomb grew up in Alabaster but she moved to Los Angeles to become a filmmaker. She says in LA, she'd heard folks talking about Sidewalk Film Fest and the booming film scene in the South.
"There's a movement happening here in Birmingham and filmmaking and really it's a lot of people coming from outside of the state to make movies here which is exciting and great in terms of bringing money to the state and to the city" she says.
Sidewalk Festival has an estimated $1.4 million annual economic impact on the Birmingham area. The Birmingham City Council recently approved $200,000 in funding for the cinema. Council President Valerie Abbott says the new venue could bring in millions for the city. But that's not the only thing she's excited about.
"The vibe that it creates in Birmingham of having films being made locally and the business that is created for local providers, I mean these things are what's really important" Abbott says.
Cook is confident the cinema will bring in even more dollars to the downtown area. It's the latest addition to Birmingham's theater district, joining the historic Lyric, Carver and Alabama theaters.
"And I think the cinema is going to add that sort of missing element to downtown where there's a constant entertainment option that isn't a concert" she says.
Cook hopes the new space will be ready in time for the Sidewalk Film Festival in August.