AG Marshall: Hoover Police Officer Was Justified in Fatal Shooting
In a new report released Tuesday, the Alabama Attorney General's Office says the officer who shot and killed Emantic Bradford Jr. Thanksgiving night was justified.
Bradford was killed by a Hoover police officer responding to sounds of gunshots. According to the report, "Officer 1 and his partner, "Officer 2," were on duty in the Galleria when they heard two gunshots approximately 75 feet away." Erron Brown, who fired one of the shots that hit Bradford's friend, Brian Wilson, ran away from the scene and towards JCPenney.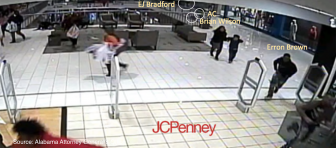 Meanwhile, Officer 1 and 2 ran towards the scene and saw Bradford with a gun. The report says Bradford was "in a ready position, then charged forward" towards Wilson and away from the officers. That's when Officer 1 fired a fatal head shot that killed Bradford on the scene. Police shot Bradford three times from behind.

The Attorney General's Office says "Officer 1 identified E.J. Bradford as an immediate deadly threat to innocent civilians and thus shot Bradford to eliminate the threat."
The state office says it determined that "Officer 1's actions were reasonable under the circumstances and were consistent with his training and nationally-accepted standards for "active shooter" scenarios." The office says according to state code, "Officer 1's actions do not constitute a crime under Alabama law, and therefore should not be presented to a grand jury for potential criminal prosecution."
The Investigation
According to the report, Hoover Police Chief Nicholas Derzis requested that crime scene technicians from the Jefferson County Sheriff's Department process the crime scene the night of the shooting.
The day after, Sheriff-elect Mark Pettway discovered he had a potential conflict of interest, and the case was transferred to then-Jefferson County District Attorney Mike Anderton. But Anderton says he also had a conflict of interest and requested the State Bureau of Investigation, or SBI, assume the investigation. This came despite requests from Bradford's family that Anderton continue to lead the investigation.
The SBI interviewed 48 individuals and conducted the investigation over the course of about two months. They obtained body camera video footage from four officers on the scene, mall security and the two surrounding stores – FootAction and JCPenney.
But in the report, Officer 1 says his body camera was in "standby mode when he heard the initial gunshots." He says he did not activate his camera before shooting Bradford "because there was "no time" due to the quickness and urgency of the event." He says he activated his body camera once he and Officer 2 began attending to Wilson and the other bystander, referred to in the report as "AC."
Because body cameras possess limited battery life and digital storage, the Hoover Police Department policy dictated that the on-duty officers' cameras be in standby mode while working their detail inside the Galleria on Thanksgiving night. As a result, none of the videos depict the shooting of Bradford and instead were turned on after the shooting.
Officer 1 says he also was  "unable to provide verbal commands to E.J. Bradford before firing his weapon due to the quickness of the event and the immediate threat [he thought] Bradford posed to Brian Wilson and AC."
The report says Officer 1 gave two statements – one within a few minutes of the shooting and a second a week later. He says he and Officer 2 were standing in front of the store Spencer's when they heard gunshots.
In a statement, Officer 1 wrote:
"…I instinctively started moving towards the area where the gunshots were heard while looking for immediate threats. I then observed a crowd of shoppers near FootAction running away from where I heard gunshots. I observed two males who were not running away, but, instead, were standing near the railing in front of FootAction. One male [Wilson] appeared to be injured, clutching his stomach, while the other male appeared to be helping him. Next, I observed an armed suspect [Bradford] quickly moving towards the two males standing near the railing. The suspect was advancing on the two males and had a black handgun in his right hand. I fired my duty weapon at the armed suspect to stop him. The suspect fell near the other two males[,] and I observed the suspect's firearm slide across the floor."
Meanwhile, Officer 2 says he also heard the gunshots and saw gunpowder smoke. He says a large number of people were running into the hallway between Spencer's and FootAction. Officer 2 says the two officers "jumped into the crowd of people to cover and look for a threat," but that his view was blocked. He says as he scanned the area, he observed the silhouette of a person and a weapon. That's when he heard Officer 1 fire three shots. Officer 2 says he did not shoot his gun because he believed that the threat was eliminated when Bradford fell to the ground.
Officer 2 says once the scene was secure, he gave medical assistance to Wilson, who was bleeding from his gunshot wounds. During this time, he says he believed that he heard AC indicate that Bradford had shot Wilson. He says, at the time, he believed Bradford had shot Brian Wilson.
Other Witnesses
Downstairs, Officer 3 and 4 say they were working together on the first floor of the Galleria, outside of JC Penney, at the time of the initial shooting. As they were moving, Officer 3 says he also heard gunshots and saw a puff of black smoke. He says from his location on the first floor, he could see Wilson through the railing, but could not see a weapon or determine who shot Wilson.
Officer 3 says he then Officer 1 moving from the left toward with his weapon drawn, but says "he could not see whom Officer 1 engaged and ultimately shot." When he arrived upstairs, Officer 3 says he saw Officer 1 holding cover while Officer 2 attended to Wilson's gunshot wounds.
Officer 3 says "that based on his perspective from the first floor, the person whom Officer 1 shot (Bradford) was not the initial shooter. However, Officer 3 says that determining the location of the initial shooter would not have been possible from Officer 1's position on the second floor. Officer 3 stated that he believed Officer 1 perceived that E.J. Bradford posed a threat and took enforcement action, as every law enforcement officer would have done in that situation."
Officer 4, who was working alongside Officer 3, says he also heard the initial gunshots and then shortly after, he heard "another round of gunshots but did not see who fired them and did not know it was an officer."
Two witnesses that were working in the nearby Claire's, say they both heard the gunshots and saw Wilson wounded. Eyewitness 1 says she thought Bradford was the shooter because he was the only man with a gun. She says she then saw two officers approaching Bradford in a low crouching position with both hands on their guns, pointing at Bradford.
Eyewitness 1 says that Bradford was not moving and that she heard an officer say, "Drop your weapon, drop your weapon Sir, put your weapon on the ground" and also say, "He is still not doing anything." Eyewitness 1 says she then saw Officer 1 shoot Bradford.
Meanwhile, Eyewitness 2 says that she did not see Bradford's weapon, but she saw Bradford taking an "aggressive stance" and heard the police officer ask Bradford, "literally three times," to drop his weapon.
She says that Bradford did not comply and then she then saw Officer 1 shoot Bradford.
Inside JC Penney, another witness working that night says she saw "people running due to a fight on the first (sic) floor." She says she then saw a police officer shoot Bradford three times. Eyewitness 3 says that she did not see Bradford holding a gun, but she did see a gun come out from his right side as he fell to the floor
Ballistic Evidence and Bradford Autopsy
The SBI created a Firearms Analysis Report with help from the Alabama Department of Forensic Sciences. In the report, it shows Officer 1 fired four shots – three of which struck Bradford in the back of the head, back of the neck and just above his right buttock. The Jefferson County Coroner Medical Examiner's Office says Bradford died from an injury to the brain caused by the bullet that struck Bradford on the back right side of his head.
The fourth bullet fired by Officer 1 did not hit Bradford and instead hit a pillar outside FootAction. The AG's office says the bullet was recovered from a pillar outside of FootAction. It indicates that Officer 1 did not hit a 12-year-old bystander in her back.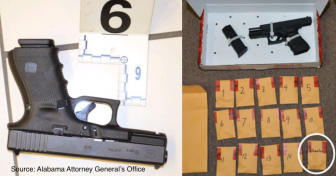 The Jefferson County Sheriff's Department seized Bradford's firearm after the shooting. It showed the 15-round magazine was full with 14 live rounds in the magazine and one live round in the chamber. The report says there is no evidence that Bradford's Glock was fired during the shooting.
Erron Brown's Case and Disclosure of Information
The AG's office says a separate investigation and prosecution of the Erron Brown shooting continues. In a recent hearing, Brown's previous attorney, Charles Salvagio, said Brown was acting in self-defense when he shot Bradford's friend, Brian Wilson.
With the ongoing investigation, the AG's office says it had to find an "elusive balance between keeping the public informed and not jeopardizing [Brown's] case or compromising ethical obligations."
The AG's office says they consulted with the Alabama State Bar and determined that "everything that occurred from the moment Erron Brown shot Brian Wilson can be disclosed, [but that] everything that led up to that moment cannot."
The state office says a separate investigation and prosecution of the Erron Brown shooting continues.
ACLU and Bradford Family Response
In a press release by the American Civil Liberties Union,Dillion Nettles an Alabama Policy Analyst, wrote:
"The Attorney General's characterization of E.J. Bradford as a 'threat' that needed 'eliminating' reveals how little regard the Attorney General has for the life of this Black man. Regardless of what the Attorney General of Alabama said in his report, E.J. Bradford's life mattered. Black lives matter. We won't stay quiet while law enforcement continues to inflict lethal violence against Black people and attempt to justify it."
Nettles says police officers "need to be held accountable when they shoot and kill innocent people, [and that] the deaths of people like Bradford are a constant reminder of the threat people of color face in a country where Black men are three times more likely ­­to be killed by police than white men."
He says the group is demanding that the National Rifle Association and President Donald Trump "either respond to the Attorney General's decision or acknowledge that their claims of a ["good guy with a gun"] do not apply to Black people with a gun."
He says they are reviewing the AG's report and will determine appropriate next steps.
Meanwhile, the Bradford family's attorney, Benjamin Crump, released a statement calling the conclusion by Attorney General Steve Marshall "outrageous and beyond comprehension." He says Bradford's only 'crime' was being black.