UAB Breaks Ground on Proton Therapy Center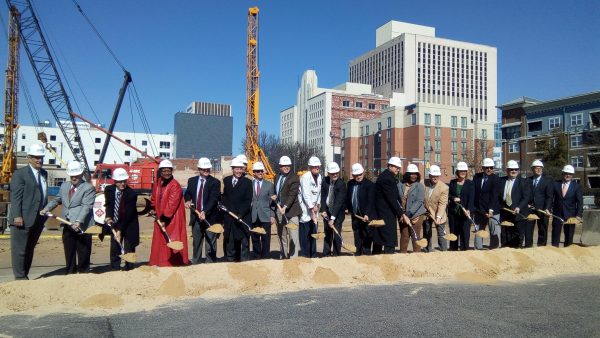 Construction began Tuesday on a new high-tech cancer treatment facility on the campus of UAB.
Proton International at UAB, the product of a partnership between the University of Alabama at Birmingham and Proton International, will be a three-story facility at the intersection of 20th Street South and 4th Avenue South focusing on proton therapy.
Proton therapy is a more targeted approach for treating cancer, using proton beams instead of more commonly used X-rays to target cancerous tumors while reducing damage to nearby healthy cells and tissue. According to Proton International CEO Chris Chandler, "Experts conservatively estimate that about 250,000 cancer patients in the United States alone could benefit from proton therapy." UAB will also be researching the technology to discover its full range of benefits and set guidelines for treatment. "Our trek for investigating proton therapy has been over 10 years," said James Bonner, chairman of UAB's Department of Radiation Oncology, "and the technology has improved substantially during that time period, so right now is a great time to get in."
UAB currently has the only Comprehensive Cancer Center in the state of Alabama recognized by the National Cancer Institute, and both sides hope the facility will not only help the institution maintain their status as leaders in the field, but help Alabama cancer patients and their families throughout the treatment process. Jefferson County Commission President Jimmy Stephens gave his support for the project: "This validates Birmingham and UAB as one of the leading cancer hospitals in America."
Construction is expected to be completed and the facility ready to treat patients in 2020. The Birmingham facility joins a system of 25 locations nationwide using the high-tech cancer treatment.
Note: WBHM is a member-supported service of UAB. WBHM's business and news departments operate separately.