A Rash of Political Sign Thefts in Homewood
Supporters of Democratic U.S. Senate candidate Doug Jones in Homewood have taken to social media to complain about a wave of campaign signs stolen from their yards around the city.
Homewood resident Felicia Noraeger put up a sign supporting Jones in her yard last month. After about two weeks, it disappeared. Noraeger says not long after she got another one,  it was in her yard no more than a day or two before it, too, went missing.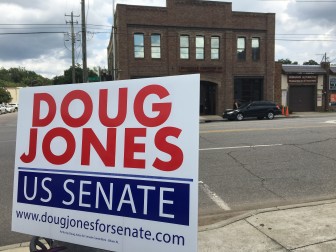 She's now on her third sign. Noraeger says she knows about 10 other Jones supporters who have had signs stolen, sometimes multiple times. Posts on social media suggest there may be dozens of such incidents citywide. One supporter got tired of replacing signs and put up a handwritten one that said: "You can steal my sign but you can't steal my vote. #DougJones"
Others have posted their signs on the inside of their windows. One person suggested coating the signs in Vaseline and glitter, at the very least to annoy the thieves.
Noraeger says she's had political yard signs in past elections that were never stolen. While she'd rather not speculate on what's behind these recent thefts, she says it seems politically motivated. "Other signs around the community that might be supporting local events, races, you know, non-political signs are not being removed," Noraeger says.
Noraeger says she thought about contacting police, but felt police had better things to do than go after missing signs. A spokesman from the Homewood Police Department says the department has received four reports of stolen signs in the last week, although those reports don't specify a candidate.