Lyrical Skill, Lofty Aspirations: The Monastery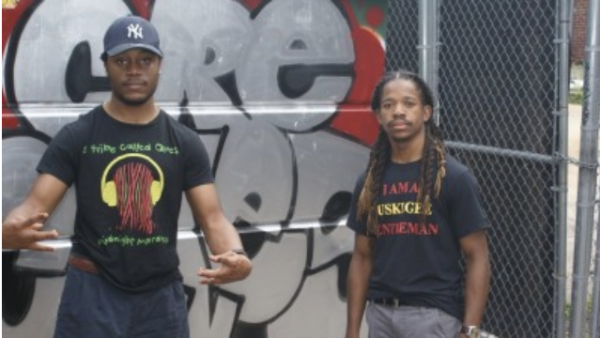 Their inspirations include modern rappers but also go all the way back to A Tribe Called Quest, Jimi Hendrix, and actual monks. They're The Monastery, a duo making their mark on Alabama's growing rap scene with intricate lyrics they hope will entertain and enlighten.
Kieron Hylton, aka Carlos Charm, and Michael Banks, aka Paco, stopped by the station to talk — and rap — with WBHM's Dan Carsen. Carlos and Paco perform Friday night at Birmingham's Das Haus for the Secret Stages music festival. But Paco says some of his own family still don't know much about his music career … yet.
Listen to the five-minute on-air interview above. Excerpts, a freestyle rap performance (featuring a WBHM staffer), and a 32-minute web-exclusive interview are below.
Conventional Expectations
"A lot of people expected me to be a doctor, something that requires a lot of intellect … I still feel like I chose a profession that does."  — Carlos Charm
Perceived Success, Actual Success
"Perception is everything. We got a bigger following, just off changing how we marketed … Our first time going to New York, we got a lot more fans, a lot more people paying attention to us, just because we did that — not even based off our skill or content or anything. And I don't know if that's a problem with the game now, but if you market yourself the right way … people tend to pay attention." — Paco
J-School?
"I went to school for journalism and I couldn't do it … Media is in a weird place, just like rap. If I would do it, I'd rather be a freelance writer or something. I couldn't 'have a boss' in the media." — Paco
Changes In Hip-hop
"We're in a time where everything isn't as deep or profound as it was in the 90s, or early 2000s for some people. But I had to learn to stop being a pessimist about the music because I was hating everything … [the simpler music] has its place. The problem is that it isn't balanced. The game is like that in every field. It's not balanced in the media, it's not balanced in sports … but if you want that balance, you can go and find it, because it's out there." — Paco
"Hip-hop is expanding so much, so rapidly … And [our Secret Stages performance] is gonna be our best concert ever — we're gonna make sure of it." — Carlos Charm
The whole freestyle rap & beatbox session:
The 32-minute web-exclusive interview: