Help Choose The Logo for The Junction!
The teen graphic design students of Ku'umba Community Arts created logo options for The Junction. The students then chose the five designs they felt best achieved the goal of presenting Ensley in a new light. Get to know the designers behind the logos, and help choose the official logo for The Junction by voting in the survey below!
---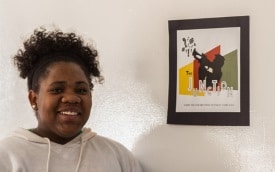 For 16-year-old Ashlyn MacMillan, designing a logo for The Junction was not only an opportunity to represent Ensley; it was also a chance to express something about her larger culture.
---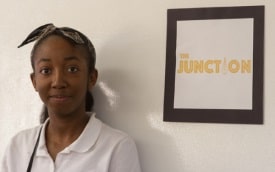 Two of the designs that are finalists for The Junction logo were created by 16-year-old Shea Washington. Shea is, as Ku'umba Director Deidre Clark says, "a design force"…a quiet design force.
---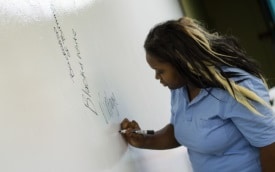 Seventeen-year-old Alyssa Moore is inspired by Ensley's jazz history; she hopes her design will inspire community pride.
---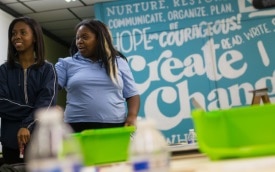 Sixteen-year-old Destiny Thompson says the cracked lines in her logo represent "the (negative) things that people say about Ensley: the misconceptions, or the things that we don't have all together." She highlighted the letters in "junction" that spell "union" to encourage people inside and outside of the community to come together through storytelling and listening: "It brings everybody together – the whole community. And everybody that doesn't know about Ensley, they can come and join."
In this interview clip, Destiny talks about representing Ensley with her logo, and how that fits with her goal of starting a community center.