Voices from Birmingham's History: Flooding Along Village Creek in Ensley
Birmingham is in a valley, resting at the foothills of the Appalachians. The city's creeks collect water running down from the mountains and filter it through the floodplains. Last week, WBHM reported on developers today taking a new interest in the 1925 Olmsted Plan for parks and green space in Birmingham. The Olmsted Plan preserved the city's major tributaries, specifically those of Village and Valley Creek.
But the city didn't follow the plan, and African-American industrial workers moved onto the flood plains. From 1988 to 2007, the City stepped in to complete a series of buyouts to remove homes from these areas.
As a child, Marilyn Roberts lived along Village creek in Ensley, a community that experienced years of flooding prior to citywide efforts to address the problem. She talked with Mary Scott Hodgin about her story and the impact of past flood events. Listen to what she has to say above, or read it below.
"We moved to Ensley in 1960 from North Birmingham onto Eleventh Street. It was right on the creek bank, but we didn't know about the flooding at the time when we moved. When we did find out about it, it was coming up the road — we were having to pack up everything, put furniture on chairs and get prepared to get out of the house. We could actually stand on the porch and look down the street and see when to leave the house before it would come all the way up the street. It was coming in fast."
"Eventually we would have to leave our homes and go to dry land and then wait for the water to recede, and then go back in the house and we would have to clean up the house, clean up the muddy waters. There were times when the water would get in and it was so high it would cover half the room, and we had to go in and have someone gutter the sheetrock, redo the wiring, and redo the hardwood floors before we could move back in."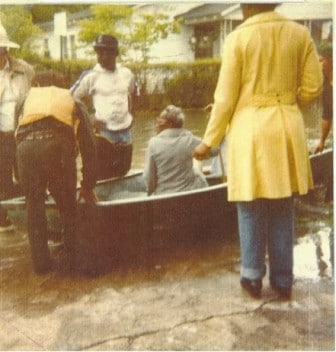 "One year, I think it was the last flood somewhere in 1983, when they had like eight feet of water, and my mom she was asleep and woke up and the water was up — it was so high they had to get the boats to go in and get her and she was standing on the banister until someone came and picked her up in a boat. It was scary. She didn't want to go back up there after that."
"The buyout came in the 1980s as well, right after the big flood. A lot of people wanted to move out because they didn't want to go through that anymore and my mom was one of the ones that were bought out. They actually removed our house and placed it somewhere else. The land is still vacant there; they haven't cultivated it into anything else but the city is working right now to put a park and trail and build it up for the families to come in and enjoy the park."